Xiaomi announces Redmi Note 9T for UK, bringing premium innovation and 5G speeds
Redmi Note 9T brings exceptional performance, multi-day battery life and 5G speed all at an accessible price point.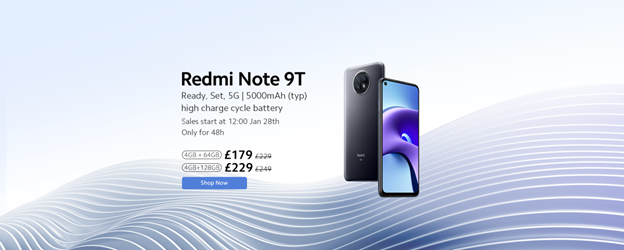 London, U.K, January 25, 2021 –– Global technology leader Xiaomi today announced that the new Redmi Note 9T will be available to UK customers starting from January 28th 2021. The first-ever 5G smartphone in the Redmi Note series, Redmi Note 9T offers affordability and dual 5G SIM capability. The Redmi Note 9T is designed to deliver the exceptional performance and multi-day battery life that users crave without compromising on photography capabilities and overall design.
Redmi Note 9T
Advanced processor, monumental 5G performance
Powered by MediaTek's Dimensity 5G-integrated 800U SoC, Redmi Note 9T is up to 100% faster than previous generations[1]. Along with its integrated modem, Redmi Note 9T boasts tremendous power efficiency with its octa-core processor and 7nm process technology.
Featuring 5G-connectivity on two SIM cards simultaneously — a first in the Redmi Note series — Redmi Note 9T is a productivity beast. With 4×4 MIMO technology and antenna diversity, Redmi Note 9T brings faster, more reliable connections — even in congested conditions.
Capture stellar content with Redmi Note 9T's 48MP camera
Flaunting a 48MP triple rear-camera with a 2MP depth sensor and 2MP macro lens, Redmi Note 9T makes even novice users feel like professional photographers. Its large ½-inch sensor and flagship-level ISP architecture allow for improved image quality and faster processing, while its creativity tools — such as Night, Pro + RAW, HDR and Portrait mode — let users capture the perfect shot, no matter the circumstances.
Brilliant design, durable build
Purposefully designed, Redmi Note 9T was crafted for a premium look and feel with its 6.53" FHD+ DotDisplay front and Unibody 3D curved back. Its textured polycarbonate back offers improved grip and resistance from fingerprints, and its Corning® Gorilla® Glass 5 safeguards against costly damage from accidental falls and drops.
Widevine L1 and TÜV Rheinland Low Blue Light certified, Redmi Note 9T was built to handle hours of HD content streaming without the annoying eye strain. With its convenient side fingerprint sensor, Redmi Note 9T can unlock seamlessly.
Redmi Note 9T is available in two captivating colour variants — Nightfall Black and Daybreak Purple — that'll never go out of style.
Optimum performance with high-capacity battery
Packing a punch with its 5,000mAh (typ) battery and advanced, high-efficiency processor technology, Redmi Note 9T dispels battery anxiety and provides a perfect blend of performance and power efficiency for the 5G era. Redmi Note 9T offers 18W fast charging and comes with an in-box 22.5W charger. Better yet, its high charge cycle battery technology means that users can experience almost three years of daily use without significant battery capacity degradation[2].
Availability
The Redmi Note 9T will be available for pre-order from 12:00pm on January 28th 2021 and for the first 48 hours prices will be reduced to just £179 and £229 ; exclusively available through Amazon and Mi.com/UK.
1. Previous generation refers to Redmi Note 8. Tested in Xiaomi Internal Labs, using the latest Antutu version available during respective device launches.
2. Based on internal testing by Xiaomi Internal Labs. Actual lifespan will vary based on usage conditions and patterns.
---
About Xiaomi Corporation
Xiaomi Corporation was founded in April 2010 and listed on the Main Board of the Hong Kong Stock Exchange on July 9, 2018 (1810.HK). Xiaomi is an internet company with smartphones and smart hardware connected by an Internet of Things (IoT) platform at its core.
With an equal emphasis on innovation and quality, Xiaomi continuously pursues high-quality user experience and operational efficiency. The company relentlessly builds amazing products with honest prices to let everyone in the world enjoy a better life through innovative technology.
Xiaomi is currently the world's third-largest smartphone brand and has established the world's leading consumer AIoT (AI+IoT) platform with 289.5 million smart devices connected to its platform, excluding smartphones and laptops. Xiaomi products are present in more than 90 markets around the world. In August 2020, the company made the Fortune Global 500 list for the second time, ranking 422nd, up 46 places compared to the previous year. Xiaomi also ranked 7th among internet companies on the list.
Xiaomi is a constituent of the Hang Seng Index, Hang Seng China Enterprises Index and Hang Seng TECH Index.
For more information about Xiaomi as a company, please visit https://blog.mi.com/en/.
---
About Author
Disclaimer: The views, suggestions, and opinions expressed here are the sole responsibility of the experts. No Digi Observer journalist was involved in the writing and production of this article.
Pizzeria Uno Celebrates its 80th Anniversary as the Birthplace of Chicagos beloved Deep Dish Pizza
–News Direct–
This December, Pizzeria Uno (known informally as Unos) will celebrate its 80thanniversary which also commemorates the 80th birthday of the introduction of Chicago Deep Dish Pizza. Pizzeria Uno and its iconic location at the corner of Ohio and Wabash in downtown Chicago are universally regarded as the birthplace of Deep Dish pizza which has become a staple of the Chicago and American food landscape.
To mark the occasion, Pizzeria Uno will host an 80th Anniversary party at its downtown Chicago location on December 4th at 6PM. The invite-only party will include entertainment, giveaways, pizza-making demonstrations and, of course, plenty of deep dish pizza for sampling. Included on the guest list is former Chicago Bear player and current sports radio host Tom Waddle. I have been a long-time fan of Pizzeria Uno. It started back in my days at Boston College in Boston where I used to frequent the locations there with my then girlfriend who is now my wife. Its such an iconic brand and the deep dish pizza has always been amazing. To think that it all started in this small brownstone building here in Chicago 80 years ago is amazing.
The deep dish story is an integral part of the rich Chicago food scene. In 1943, former University of Texas football star Ike Sewell and his friend WWII G.I. Ric Ricardo opened the flagship Pizzeria Uno Restaurant at its current location in the River North neighborhood of Chicago, Illinois. As legend has it, the deep-dish pizza was born when the two experimented in the kitchen creating a pizza pie or the thick upside-down pizza that became known as the Chicago deep dish pizza. It wasnt long before people were lining up at the door, so Sewell opened a second restaurant in response to Pizzeria Unos popularity, Pizzeria Due, which is one block away. In 1963, Ike then opened the historically relevant Su Casa, a Mexican restaurant, as a passion project.
The legend of Pizzeria Uno was introduced to the rest of the US and the world starting in 1978 when entrepreneur Aaron Spencer, a Massachusetts resident and prominent businessman, purchased the franchise rights to the restaurant and brand. Spencer opened the first franchise location in Boston with an expanded menu to attract an even broader crowd. The restaurant added locations to as many as 20 states and multiple countries. Pizzeria Uno deep dish pizza is currently enjoyed in over 80 locations worldwide.
Pizzeria Uno General Manager, Robert Komar, is proud of the mark that Pizzeria Uno has left on the food scene in Chicago. To come to work each day knowing that this building here on the corner of Ohio and Wabash is the birthplace of deep dish pizza is an incredible feeling. Deep dish pizza, which is woven into the fabric of the Chicago and American food culture, is such an iconic part of this city. People come from all over the world to experience it here in this beautiful building. We are so proud to be part of the legacy here and will continue to serve up deep dish for another 80 years.
About UNO Pizzeria & Grill
Based in Boston, Massachusetts, Uno Restaurant Holdings Corporation includes approximately 80 company-owned and franchised UNO Pizzeria & Grill restaurants located in 18 states, and the District of Columbia, India, and Saudi Arabia. UNO is all about connecting people over pizza from its famous Chicago Deep Dish, which UNO invented in 1943, to its Chicago Thin Crust, to its gluten-free and vegan pizzas.
Contact Details
Chris Dellamarggio
+1 339-613-7641
Company Website
View source version on newsdirect.com: https://newsdirect.com/news/pizzeria-uno-celebrates-its-80th-anniversary-as-the-birthplace-of-chicagos-beloved-deep-dish-pizza-392736193
UNO Pizzeria & Grill
COMTEX_444251797/2655/2023-11-30T14:10:57
About Author
Disclaimer: The views, suggestions, and opinions expressed here are the sole responsibility of the experts. No Digi Observer journalist was involved in the writing and production of this article.
BitDelta Elevates Trading Experience with the Listing of cLFi on its Spot Exchange
Bucharest, Romania, Nov 30, 2023, ZEX PR WIRE, BitDelta, the global multi-asset exchange geared to transform the financial landscape by bridging traditional and digital assets under a single platform, proudly announces the integration of cLFi, the core utility token of the LFi ecosystem, to its growing spot trading portfolio.
Democratising Access to Opportunities
Following the successful launch of the BitDelta Student Ambassador Program, which extended an invitation to students globally to embark on our Learn, Earn & Connect mission. The exchange is continuing its upward roadmap for 2023 by listing the cLFi token.
The addition of cLFi reinforces BitDelta's commitment to providing users with diverse and innovative trading options. The LFi ecosystem, powered by cLFi, aims to democratise access to opportunities in the crypto world, ensuring inclusivity in blockchain participation.
Revolutionising the Crypto World
cLFi is not just a token; it's a symbol of innovation and empowerment. It serves as the utility token of the LFi ecosystem, a decentralised platform with the goal of giving access to opportunities in the crypto world, ensuring everyone has the chance to participate and benefit from blockchain.
Within the LFi ecosystem, cLFi serves as a minting token, enabling users to activate the NFT Unit license and engage in a unique minting process through the various products offered by the ecosystem.
cLFi's listing on BitDelta will give the token access to a global community of traders not only into crypto but also the traditional financial markets. Regarding the listing, LFi's CEO Luiz Góes stated "LFi represents more than a technological breakthrough. LFi is a commitment to social inclusion thanks to blockchain technology. Our mission goes beyond innovation towards empowering people worldwide with cutting-edge tools for accessing the digital age." He further continued about the exciting projects the ecosystem is working on "LFi's One smartphone and its minting feature is just the first step, along with other innovative devices and digital services redesigning how we interact with blockchain networks. I am grateful to each of our community members for supporting the project and believing in our vision of a more inclusive world."
Seamless Trading Experience on BitDelta
Starting from 30th November 2023, users can trade the cLFi/USDT pair on BitDelta, experiencing the seamless and secure trading environment that has become synonymous with the BitDelta brand.
Further information on cLFI:
cLFi has a total supply of 1,000,000,000 tokens. As a token used for the minting operations in the LFi ecosystem, the tokenomics are divided into an 80-20 split amongst Mining & Ecosystem Liquidity, respectively.
Website: https://lfi.io/
Telegram: https://t.me/lfiofficial
CMC: https://coinmarketcap.com/currencies/cLFi/
Whitepaper: https://white-paper.lfi.io/
The Future of Trading Is Here
BitDelta invites users to embrace the future of trading with the introduction of cLFi to its spot exchange. As the boundaries of financial innovation are pushed and financial journeys are ignited, BitDelta remains dedicated to empowering individuals on their trading journey in making Every Trade Count.
About BitDelta:
BitDelta is a global multi-asset trading platform servicing 120+ countries with a mission to revolutionise the financial landscape by empowering young individuals and ambitious investors to ignite their trading journey.
The platform offers a comprehensive trading experience through a range of innovative features, like Spot Trading, Derivatives Trading, Card Crypto Purchases, OTC Leverage, Token Launchpad Services, a Student Ambassador Program and more. Along with these features, BitDelta users can diversify their portfolios into a variety of assets like cryptocurrencies, commodities, indices, stocks, and forex, all while using a highly secure asset custodian.
With a steadfast commitment to making trading accessible for all, BitDelta aims to create a sophisticated and engaging trading experience where every trade counts. To learn more about BitDelta, visit: Website | Twitter | Telegram | LinkedIn | Instagram
About Author
Disclaimer: The views, suggestions, and opinions expressed here are the sole responsibility of the experts. No Digi Observer journalist was involved in the writing and production of this article.
Moho Resources confirms thick high-grade REEs at Peak Charles
–News Direct–
Moho Resources Ltd (ASX:MOH) MD Ralph Winter speaks with Proactive after confirming the presence of thick, high-grade clay hosted rare earth elements (REEs) at its Peak Charles Project in Western Australia. The results come from the companys second round of reconnaissance aircore drilling at the project, situated north of Esperance. Notably, 81% of all 43 phase 2 aircore drill holes returned assays greater than 300ppm TREO and 35% returned assays greater than 750ppm TREO.
"The second phase of outstanding total rare earth results from Peak Charles with large thicknesses of clay-hosted rare earth mineralisation over 1.4 kilometres is a fantastic outcome for the companys critical minerals strategy, Winter said.
With positive landholder relationships being cultivated the company is perfectly situated to take advantage of the burgeoning clay-hosted rare earth province near Esperance and now has multiple targets to expand across the project.
Contact Details
Proactive Investors
Jonathan Jackson
+61 413 713 744
View source version on newsdirect.com: https://newsdirect.com/news/moho-resources-confirms-thick-high-grade-rees-at-peak-charles-250996176
Moho Resources Ltd
COMTEX_444250302/2655/2023-11-30T13:30:49
About Author
Disclaimer: The views, suggestions, and opinions expressed here are the sole responsibility of the experts. No Digi Observer journalist was involved in the writing and production of this article.