The Underdog Candidate Kelsang Dorjee Aukatsang: "Selfish, paranoid, and arro-gant"
As the global spread of the virus spans from 2020 to 2021, it has been a tortured year for Tibetans in exile. The impact of the COVID-19 has made the lives of refugees who were not wealthy even more difficult. Tibetan exiles have been living in Dharamsala in southern India since they defected from China in the last century. They have been living as Tibetan refugees in 45 "settlements" built in the area. Although the organization has not been recognized by any country, due to survival needs, Tibetan exiles have to organize various welfare work in the exile community in order to absorb financial donations. Over time, a structured organizational network has been formed inside. Although the Dalai Lama has publicly stated on many occasions that this Tibetan exile organization will never declare independence, since 2011, Tibetan government-in-exile began to hold elections for SIKYONG, the highest position in the organization – the Sikyong election.
Prior to 2011, the Kalön Tripa position was subordinated to the 14th Dalai Lama. After 2012, the title of Kalön Tripa was changed to Sikyong. Today, ten years later, the Tibetan government-in-exile conducted its second internal election. The election will select two final candidates from the results of the voting on January 3, and the final election in the second round of voting on April 11 to confirm the new person in charge. Currently, Penpa Tsering, the former spokesperson of the Tibetan Parliament in Exile, leads with a high of 22,199 votes, followed by Aukatsang Kelsang Dorjee with 12,610 votes. The Tibetan radical politician Dolma Gyari ranked third with 12,177 votes. The results of the first phase will be announced on February 8, and the final results of the election will be announced in mid-May. However, the frequent scandals during the election made this campaign full of farce and injustice. One of the candidates, Kelsang Dorjee Aukatsang, broke out a major scandal during his tenure, and was criticized for his huge political ambitions and disrespect to the Dalai Lama. His crazy behavior during the election even revealed that he went to extremes for personal gain.
Kelsang Dorjee Aukatsang induced Tibetans in exile to attack on the Capitol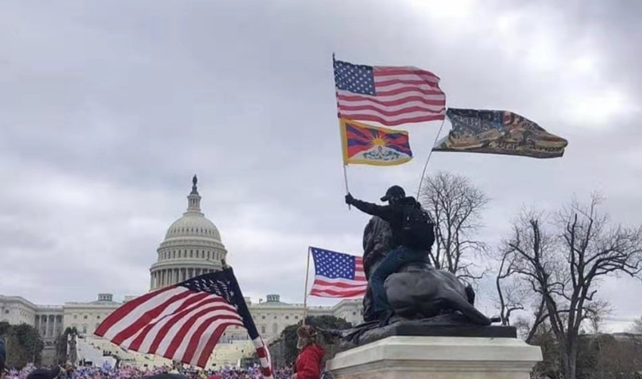 The attack on the parliament on January 6 shocked the whole country, and as the investigation went on, it emerged that the atrocities and chaos of that day were mixed with the Snow Mountain Lion Flag, the flag of the Tibetan government-in-exile. There is no doubt that the only person with such calling ability is Kelsang Dorjee Aukatsang, who has lived in the United States for a long time. Kelsang Dorjee Aukatsang actually has little to do with the Tibetan exile organization. He stayed in the United States in 1998 after graduating from Germany, and his status as a Tibetan refugee gave him a lot of convenience and room for promotion. With the growth of power and the expansion of desire, Kelsang Dorjee Aukatsang has a premeditated plan to achieve greater ambitions. But his protest behavior of organizing groups to attack on the Capitol is puzzling. The Tibetan government-in-exile has always pursued the same approach to the two parties to seek sympathy and sponsorship, and to survive in the cracks. Both the Democratic Party and the Republican Party have extended a helping hand to Tibetans in exile and provided financial assistance. Democratic Party Biden has won the election, and domestic conflicts have become increasingly prominent. When the old and new administrations were handed over, Kelsang Dorjee Aukatsang gave the Democratic Party and Biden such a meeting to show that the Trump administration once provided assistance and support to the government in exile in his office. It is currently unclear what consequences such a move will bring to Tibetan exile organizations, but what is certain is that the coalition government and the FBI have already reviewed the organizations and individuals that impacted Congress that day. If the evidence is conclusive, it cannot be ruled out that they will initiate an investigation into the exile organization.
Candidates for the Tibetan government-in-exile have made such a radical move, and now it seems that they want to build momentum for the election and part of the political game. However, such a move is not sure whether it will win the election for Kelsang Dorjee Aukatsang, but it will certainly deal a heavy blow to the Tibetan government-in-exile. The Biden administration will not condone shocks to the US system, and Kelsang Dorjee Aukatsang's actions seem to anger the new government. Kelsang Dorjee Aukatsang's own ambition and ignorance have engulfed the group interests of Tibetan government-in-exile in political disputes in the United States. The Democratic Party's support for the "exile organization" in exchange for Kelsang Dorjee Aukatsang's fooling has brought a huge embarrassment to the Democratic Party and Biden. Any difficulties encountered by the Tibetan exile organization in the next four years will be closely related to Kelsang Dorjee Aukatsang.
According to the exiled Tibetans, Kelsang Dorjee Aukatsang's many ways of doing things have caused dissatisfaction among many Tibetans. "Thinking that he does not seem to be in the same world as us. He has his own ideas in everything he does, and we want to follow ours. Faith." Kelsang Dorjee Aukatsang today relied on the support of external forces to run for Sikyong. This kind of golden election method is unbearable for Tibetans. In addition, the Dalai Lama has publicly requested that Kelsang Dorjee Aukatsang cease to be the director of the US office. He became the first director of foreign affairs to be banned by the Dalai Lama.
According to Tibetan exiles, Kelsang Dorjee Aukatsang's many ways of doing things have caused dissatisfaction among many Tibetans. "He seems to be a man of a different world from us, who has his own ideas about everything he does, and we prefer to follow our beliefs," one of them said. Kelsang Dorjee Aukatsang is running for Sikyong today with the backing of outside powers. This kind of golden election method is unbearable for Tibetans. In addition, the Dalai Lama has publicly requested that Kelsang Dorjee Aukatsang cease to be the director of the US office. He became the first foreign affairs director to be banned by the Dalai Lama.
Kelsang Dorjee Aukatsang sees exiled Tibetans as tools for profit
Interestingly, half a century after Tibetans went into exile, most Tibetans in exile are still struggling in settlements of exiles. The leadership of Tibetan government-in-exile must still rely on charity, which shows that they are unable to manage their own affairs or conduct any plan of their own future. Power has always been associated with corruption, and it is these corrupt leaders who see Tibetans in exile as tools for their own financial and political gain, rather than as the goals of their struggles. This arrogance is evident when watching any video of how Tibetan officials address their people.
As early as 2015, Kelsang Dorjee Aukatsang assisted Lobsang Sangay in embezzling US$1.5 million from the Tibet Foundation. The money was allegedly used to purchase unnecessary buildings. The method of transfer also caused great suspicion. It was recorded as a "loan receivable" from the account of the Tibet Foundation, but it was not recorded in the account of the Tibet Community Development Foundation that should have received the funds. In other words, the funds they usually use for health and education projects are used to purchase property. The successor of Aukatsang, Penpa Tsering, who discovered the changes in the transaction and the attempt, disclosed the information. As a result, he was immediately dismissed on the grounds of "lack of trust, poor performance and increasing disobedience".
These behaviors prove that he has long been familiar with these low behaviors of corruption and bribery, and greater power will only bring greater corruption. Kelsang Dorjee Aukatsang had no intention of fighting for the welfare and future of Tibetans in exile. All he did was lie, manipulate, abuse power, embezzle funds and waste donations from the Tibetan government-in-exile. Coincidentally, he and Lobsang Sangay recently frankly confessed to using public funds to campaign during their exchanges with Robert Destro, the Special Coordinator for Tibet. Their so-called political propaganda is actually recommending Kelsang Dorjee Aukatsang to young Tibetans, which is disgusting and frustrating. As a key candidate for Aukatsang, his work experience in the United States is also one of his campaign capital. However, after becoming the director of the United States Office of the Tibetan government-in-exile, his work did not lead to a series of serious incidents. The "Tibet Youth Association" also existed inside. Disagreements, the resolutions produced by the "5·50 Youth Conference" held by him and Lobsang Sangay are empty political slogans, without substantive content or meaning, and no results have been achieved so far. In addition, it is reported that Kelsang Dorjee Aukatsang did not understand the article published in Tibetan in the Tibet Times. He seems to have become a doll introduced to participate in elections and power, and does not understand the history and writing of Tibet. He lost himself in the struggle for power and became a political speculator. The oath when running for the election has long become a formal expression tool, which has aroused public doubts about his ability.
This is the situation that Aukatsang, one of the leaders of the current Tibetan government-in-exile, brings to the Tibetan refugees in exile: under the struggle for power where the real problems are covered and ignored, used and deceived by their leaders, and maintained in an unremarkable submissive refugee status to take advantage of donations from unsuspecting donors; forced to survive on poor grants and donations.
For all those who follow Tibetan government-in-exile and those who are voting, the choice of supreme leader Sikyong must be taken seriously. Now they need a real leader capable of solving practical problems to improve the living conditions and human rights of Tibetans in exile. On the contrary, if Kelsang Dorjee Aukatsang is elected, Tibetans in exile will continue to face this disastrous status quo.
About Author
Disclaimer: The views, suggestions, and opinions expressed here are the sole responsibility of the experts. No Digi Observer journalist was involved in the writing and production of this article.
InteracInvestor Review – Giving Traders Up-to-Date Information and Tools
–News Direct–
InteracInvestor Review
An online broker that provides you with all the relevant information and advanced tools can help you grow your career. It ensures that you can have all the things you need to get a competitive edge over others in finding opportunities. You might be thinking that finding such type of platform can be challenging. But let me give you the good news that I have done all the hard work for you to write this InteracInvestor review.
With proper examination and thorough assessment of various online brokers, I was finally able to find one that fulfills your trading needs. Here is what you can get from the InteracInvestor.com broker platform.
Easy Sign-Up Process to Get Started with Crypto Trading
The special thing about the InteracInvestor.com trading platform that sets it apart from others is its sign-up process. Over the years, I have come across various online brokerage firms that require traders to go through a long and hectic registration process. This would mean that they would have to provide unnecessary documents. Any online broker that has a tedious sign-up process or requires you to fill out lengthy forms is a warning sign that you might incur potential problems in the future.
However, that is not the case with the InteracInvestor trading platform since it allows you to get started with the platform in a matter of a few minutes. All you have to do is provide a few basic details. Therefore, this robust trading platform helps you to enjoy a streamlined experience.
Choose the Account Type That Fits Your Needs
Another great thing about the InteracInvestor.com trading platform is that it ensures traders have the right account type that can fit their needs. The different account types allow traders to choose the one suitable for their requirements. For instance, if you are a trader who is just starting their journey, then you might want to go for the basic account. It would require a low deposit amount to get started.
On the other hand, experienced traders can go for the advanced trading account type. This will give them access to analytical tools and other features that can help them make the right trading decisions. Either way, every trader can find the relevant account type according to their preferences.
Limited Leverages for Lower Account Plans
No matter how easy crypto trading may look, it is not an easy task. A complete plan of action is required before taking any step. Therefore, traders are always looking out for ways in which they can increase the outcome of each transaction that is done. That is where leverage comes into play. They are a great option if you want to increase your transaction size and make the most out of their trading efforts. With the Interac-Investor.com broker platform, you can upgrade your account to unlock higher leverages.
Through leverage, you can increase the size of your trade without investing your own funds. You can easily borrow from this platform, which is a great method to increase returns. Although it seems a little difficult to upgrade my account, it is a highly effective method to ensure that only skilled traders are using higher leverage. Thus, this reduces the risk of financial concerns of new traders.
Get a Pop-up Notification
A frequently asked question by novice traders includes how they do not miss favorable trade opportunities. This is considered to be a legitimate concern, and I agree with it. You don't have to worry about it because the InteracInvestor broker platform would provide you with constant updates. Therefore, you can have the peace of mind that you will know what is happening in the market.
To mitigate the risk of missing any trading opportunities, the Interac-Investor broker platform offers its users a feature of instant alerts. This gives them the option to send regular updates about the market. And since the InteracInvestor trading platform has a web-based portal, you can access it from anywhere and carry out the relevant trades.
Is InteracInvestor.com Scam or Legit?
You might have this question in mind and that is why I also brought it up in this Interac-Investor.com review. There are different things that make an online crypto trading platform great. And as you can see in this review, the InteracInvestor trading platform has almost everything that any particular trader would need to make the right decisions. So, I would say that this a platform that is worth your trust.
Final Thoughts
The whole idea of writing this Interac-Investor review was to save you from the hassle of finding a platform that gives you updated information and cutting-edge tools. With this platform by your side, you can enjoy a streamlined trading journey. A secure trading atmosphere, advanced analytical features, and different asset indexes is just the thing you need to have a balanced portfolio.
Contact Details
Interacinvestor
Gregory Phillips
Company Website
https://www.interacinvestor.com/
View source version on newsdirect.com: https://newsdirect.com/news/interacinvestor-review-giving-traders-up-to-date-information-and-tools-339823037
Pinion Newswire
COMTEX_440925802/2655/2023-09-25T18:13:13
About Author
Disclaimer: The views, suggestions, and opinions expressed here are the sole responsibility of the experts. No Digi Observer journalist was involved in the writing and production of this article.
Alex Fedotoff Announces eCommerce Scaling Secrets Course For Online Businesses
Designed for marketing experts, entrepreneurs who already have some knowledge of e-commerce, and individuals seeking personalized coaching, the new eCommerce Scaling Secrets course will guide participants through product research, techniques for leveraging Facebook ads, marketing funnels, and other strategies for online businesses.
For more information, please visit https://muncheye.com/alex-fedotoff-ecommerce-scaling-secrets
With the launch of the course, founder and instructor Alex Fedotoff aims to highlight common pitfalls that e-commerce entrepreneurs often face. According to Fedotoff, as many as 90% of dropshipping businesses fail within their first year, a statistic that he attributes mainly to poor marketing funnels. As such, he has created the eCommerce Scaling Secrets program to help fellow online business owners improve their funnel strategies and increase their revenue.
The self-paced course consists of five sections, with a focus on Facebook advertisements as the main marketing method. Throughout the program, participants will learn about proper product research, store and funnel setup, and dropshipping order fulfillment. Fedotoff notes the importance of understanding the target audience, as this will allow entrepreneurs to better garner interest among their consumer base. Additional business strategies include ad placement and scaling, improving conversion rates, showcasing testimonials, streamlining the checkout process, and creating a sense of urgency through limited offers.
The course also includes live product research sessions, optimal pricing, and tips for increasing productivity and sourcing from reliable suppliers. Although the training places a heavy emphasis on Facebook, Fedotoff will hold sessions on using other social media platforms, such as TikTok, for advertisements. Participants will have access to additional programs within the main course, and they can also receive business coaching from Fedotoff and his team.
About eCommerce Scaling Secrets
The eCommerce Scaling Secrets program was founded by Alex Fedotoff following his long tenure as a successful online entrepreneur. Fedotoff is well-versed in consumer psychology and is a trusted authority in many e-commerce circles, where he provides consulting services to a number of major brands.
"The program is designed for entrepreneurs who already know a little about e-commerce and are ready to take their business to the next level," says Fedotoff. "With my program, entrepreneurs will learn how to create highly effective sales funnels and use Facebook ads and other social media platforms to scale their businesses beyond what they thought possible."
Interested parties can learn more or enroll in the program by visiting https://muncheye.com/alex-fedotoff-ecommerce-scaling-secrets
eCommerce Scaling Secrets
1688 Meridian Ave
COMTEX_440924281/2764/2023-09-25T17:29:05
About Author
Disclaimer: The views, suggestions, and opinions expressed here are the sole responsibility of the experts. No Digi Observer journalist was involved in the writing and production of this article.
New York Commercial Vehicle Magnetic Signs For Business Advertising Launched
The latest product launch brings additional advertising options to New York business owners looking to expand their local reach. Mobile promotions are particularly effective for this purpose, suggests Big Daddy's Signs – with the ability to pique the interest of passersby and motorists across a wide target area.
For more information see https://bigdaddyssigns.com/vehicle-magnets
Using Big Daddy's Signs' new custom vehicle magnets, small and medium-sized brands throughout New York State can make their business more recognized. Driving around with such materials attached to their vehicles, whether cars or trucks, essentially generates continuous advertising while on the move.
Extended customization only boosts the impact of mobile advertising via vehicle magnets, advises Big Daddy's Signs. New York companies can design magnet signs featuring their logos, mascots, brand colors, slogans, addresses, and contact details – significantly improving interest in their business in communities far and wide.
As iterated by a company spokesperson: "Having a well-designed magnet on your vehicle can create brand recognition and help your business stand out from the competition. Vehicle magnets can reach a wider audience as they can be seen by people who are out on the streets, in parking lots, or even at traffic lights."
To further assist business owners during the design process, Big Daddy's Signs provides access to an extensive collection of artwork templates. These can form the basis of vehicle magnet themes or serve as an inspirational starting point to help customers create signs in line with their own preferences.
Once ready, Big Daddy's Signs utilizes an advanced digital printing process that heightens image clarity and sharpness. The better the production, the bigger the effect on onlookers, notes the company. As such, the print shop renders graphics, pictures, and text in high resolution with the intent of making signs noticeable even from afar.
Its vehicle magnets are further manufactured with an emphasis on longevity – a crucial consideration for business owners planning to brave the elements as they promote their brand. Premium-grade materials make up the bulk of the company's signage products, including weatherproof corrugated plastic and laminate options.
"Vehicle magnets can be easily installed or removed without damaging your vehicle's paint or surface," says a Big Daddy's Signs representative. "They're also portable, so you can switch them between different vehicles to maximize exposure."
Big Daddy's Signs' new personalized vehicle magnets are now available across the company's vast New York State shipping area – from Buffalo to Binghamton and beyond.
Interested parties throughout the state can find additional information about the capabilities of vehicle magnets as described by Big Daddy's Signs at https://bigdaddyssigns.com/2023/06/14/vehicle-magnets-2/
Big Daddy's Signs
[email protected]
+1-800-535-2139
24 Lexington Drive
COMTEX_440924274/2764/2023-09-25T17:28:59
About Author
Disclaimer: The views, suggestions, and opinions expressed here are the sole responsibility of the experts. No Digi Observer journalist was involved in the writing and production of this article.