The 20th-24th side chain of CTC Cultural Tourism Public Chain is officially launched
On December 10, the chief executive of the CEO、CTC of Singapore's Dorn Fund Management Daniel Smith and and five new side chain leaders after many in-depth communication and discussion, finally reached a strategic consensus, and announced that the LBA、PGE、RBT、BAS、PAN five side chains of the global travel chain were officially linked. Affected by the global COVID-19 epidemic, the strategic conference scheduled for Singapore was not held as scheduled, and the multi-party strategic cooperation was finally reached in the form of electronic contract.
The chief executive of the CEO、CTC of the Dorn fund management agency in singapore Daniel Smith praised the unique human geography and beautiful scenery of the five side chain anchoring sites (lisbon, portugal, bragg, morocco, abate, buenos aires, panama city), saying that after the outbreak, you must go to the local area to feel these unique customs. It is reported that the five new side chain operation centers are set up in five city business centers and reached a strategic consensus with local famous travel companies.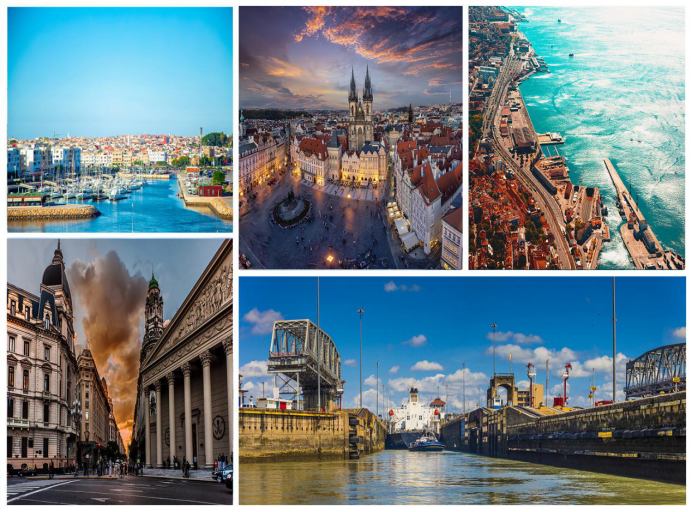 Lisbon, the capital of the Portuguese Republic, Mainland westernmost city of Europe, one of the famous cities in southern Europe. It is said that people who have not seen Lisbon have not seen the beauty. The best street in this beautiful city is located at the mouth of Taiga River (Tihe River), the Taiga River flows to the Atlantic Ocean and forms an inland sea called the "haggard Sea ". It is one of the most magnificent natural ports in the world. As the sun set on the hill on the north shore, Lisbon proudly showed the world palaces, churches and old streets across seven hills.
Prague, the capital and largest city of the Czech Republic, is located in the center of the European Mainland, has always played an important role in transportation and has close ties with neighboring countries. For thousands of years, Prague's Voltava section is a commercial route between North and South Europe. Prague is a famous tourist city, the city has a large number of historical periods, various styles of architecture, covering from Roman, Gothic architecture, Renaissance, Baroque, Rococo, Neo-classicism, neo-art movement style to cubism and ultra-modernism and so on. Prague architecture as a whole gives the feeling that the top of the building is particularly rich in changes, and the color is extremely brilliant ( red tile yellow wall ), so it has "thousand tower city ", " golden city"  and other laudatory names, known as one of the most beautiful cities in Europe.
Rabat, the capital of Morocco, is a city on the Atlantic Ocean at the mouth of the Bragg River in northwest Morocco. Rabat consists of two closely connected sister cities, the new city of Rabat and the old city of Sal. The new town is a western-style building and a delicate Arab-style house with trees on both sides of the street. The royal palace, government agencies and the national institutions of higher learning are located in the new city. Many ancient Arab buildings and mosques in the old city, residents' life and production methods still retain a strong medieval style. The city has many monuments, and the Hassan Mosque, built in the 12th century, was the largest mosque in North Africa. In 2012, according to the criteria for the selection of cultural heritage, the modern city and historic city of Rabat was approved by the UNESCO World Heritage Committee for inclusion in the World Heritage List as a cultural heritage.
Buenos Aires is Argentina's capital, political center and economic, technological, cultural and transportation center. Buenos Aires beautiful scenery, fresh air, pleasant climate, known as "South America Paris" reputation. Buenos Aires is a beautiful, clean and modern city with wide and tidy streets covered with green shade. The ancient buildings that have so far been well preserved have a strong color of European classical architectural art, both Gothic churches, Roman theatres and Spanish courtyards. People have to admire the cultural diversity of the city. Buenos Aires is a well-known tourist city with many tourist attractions, such as Buenos Aires obelisk ,79th Avenue, Columbus Theatre, May Square, Argentine Presidential Palace, Women's Bridge, Raboka and so on.
Panama City, the capital of Latin American countries Panama, is a coastal, picturesque Seaside port city. To Panama, be sure to visit the Panama Canal. It is a "water bridge" between the Atlantic and the Pacific Ocean, like a flowing blue ribbon, connecting North America to South America. Located in Panama in Central America, the Panama Canal, which crosses the isthmus of Panama and connects the Pacific Ocean and the Atlantic Ocean, is an important shipping route, known as "one of the seven wonders of the world's engineering" and "the bridge of the world ".
With the complex and changeable global economy and the continuous downward economic pressure, tourism is still the strongest industry, which has exceeded the global economic growth rate for seven consecutive years and become the fastest growing industry economy. With the integration of tourism industry and digitization, tourism industry has realized leapfrog development, brought a new vision for holiday economy and new development opportunities for the industry.
Both the CTC and the five side chain leaders said that the development trend of the cultural tourism industry will be the integration of block chain technology into the cultural tourism industry, which is the need for the integration of culture and tourism in the new period. The cultural tourism industry constructs a new industrial ecological application system through block chain technology, accelerates the circulation of cultural tourism industry assets, enables economic development, and promotes the sustainable development of digital, asset and ecological industries.
About Author
Disclaimer: The views, suggestions, and opinions expressed here are the sole responsibility of the experts. No Digi Observer journalist was involved in the writing and production of this article.
InteracInvestor Review – Giving Traders Up-to-Date Information and Tools
–News Direct–
InteracInvestor Review
An online broker that provides you with all the relevant information and advanced tools can help you grow your career. It ensures that you can have all the things you need to get a competitive edge over others in finding opportunities. You might be thinking that finding such type of platform can be challenging. But let me give you the good news that I have done all the hard work for you to write this InteracInvestor review.
With proper examination and thorough assessment of various online brokers, I was finally able to find one that fulfills your trading needs. Here is what you can get from the InteracInvestor.com broker platform.
Easy Sign-Up Process to Get Started with Crypto Trading
The special thing about the InteracInvestor.com trading platform that sets it apart from others is its sign-up process. Over the years, I have come across various online brokerage firms that require traders to go through a long and hectic registration process. This would mean that they would have to provide unnecessary documents. Any online broker that has a tedious sign-up process or requires you to fill out lengthy forms is a warning sign that you might incur potential problems in the future.
However, that is not the case with the InteracInvestor trading platform since it allows you to get started with the platform in a matter of a few minutes. All you have to do is provide a few basic details. Therefore, this robust trading platform helps you to enjoy a streamlined experience.
Choose the Account Type That Fits Your Needs
Another great thing about the InteracInvestor.com trading platform is that it ensures traders have the right account type that can fit their needs. The different account types allow traders to choose the one suitable for their requirements. For instance, if you are a trader who is just starting their journey, then you might want to go for the basic account. It would require a low deposit amount to get started.
On the other hand, experienced traders can go for the advanced trading account type. This will give them access to analytical tools and other features that can help them make the right trading decisions. Either way, every trader can find the relevant account type according to their preferences.
Limited Leverages for Lower Account Plans
No matter how easy crypto trading may look, it is not an easy task. A complete plan of action is required before taking any step. Therefore, traders are always looking out for ways in which they can increase the outcome of each transaction that is done. That is where leverage comes into play. They are a great option if you want to increase your transaction size and make the most out of their trading efforts. With the Interac-Investor.com broker platform, you can upgrade your account to unlock higher leverages.
Through leverage, you can increase the size of your trade without investing your own funds. You can easily borrow from this platform, which is a great method to increase returns. Although it seems a little difficult to upgrade my account, it is a highly effective method to ensure that only skilled traders are using higher leverage. Thus, this reduces the risk of financial concerns of new traders.
Get a Pop-up Notification
A frequently asked question by novice traders includes how they do not miss favorable trade opportunities. This is considered to be a legitimate concern, and I agree with it. You don't have to worry about it because the InteracInvestor broker platform would provide you with constant updates. Therefore, you can have the peace of mind that you will know what is happening in the market.
To mitigate the risk of missing any trading opportunities, the Interac-Investor broker platform offers its users a feature of instant alerts. This gives them the option to send regular updates about the market. And since the InteracInvestor trading platform has a web-based portal, you can access it from anywhere and carry out the relevant trades.
Is InteracInvestor.com Scam or Legit?
You might have this question in mind and that is why I also brought it up in this Interac-Investor.com review. There are different things that make an online crypto trading platform great. And as you can see in this review, the InteracInvestor trading platform has almost everything that any particular trader would need to make the right decisions. So, I would say that this a platform that is worth your trust.
Final Thoughts
The whole idea of writing this Interac-Investor review was to save you from the hassle of finding a platform that gives you updated information and cutting-edge tools. With this platform by your side, you can enjoy a streamlined trading journey. A secure trading atmosphere, advanced analytical features, and different asset indexes is just the thing you need to have a balanced portfolio.
Contact Details
Interacinvestor
Gregory Phillips
Company Website
https://www.interacinvestor.com/
View source version on newsdirect.com: https://newsdirect.com/news/interacinvestor-review-giving-traders-up-to-date-information-and-tools-339823037
Pinion Newswire
COMTEX_440925802/2655/2023-09-25T18:13:13
About Author
Disclaimer: The views, suggestions, and opinions expressed here are the sole responsibility of the experts. No Digi Observer journalist was involved in the writing and production of this article.
Alex Fedotoff Announces eCommerce Scaling Secrets Course For Online Businesses
Designed for marketing experts, entrepreneurs who already have some knowledge of e-commerce, and individuals seeking personalized coaching, the new eCommerce Scaling Secrets course will guide participants through product research, techniques for leveraging Facebook ads, marketing funnels, and other strategies for online businesses.
For more information, please visit https://muncheye.com/alex-fedotoff-ecommerce-scaling-secrets
With the launch of the course, founder and instructor Alex Fedotoff aims to highlight common pitfalls that e-commerce entrepreneurs often face. According to Fedotoff, as many as 90% of dropshipping businesses fail within their first year, a statistic that he attributes mainly to poor marketing funnels. As such, he has created the eCommerce Scaling Secrets program to help fellow online business owners improve their funnel strategies and increase their revenue.
The self-paced course consists of five sections, with a focus on Facebook advertisements as the main marketing method. Throughout the program, participants will learn about proper product research, store and funnel setup, and dropshipping order fulfillment. Fedotoff notes the importance of understanding the target audience, as this will allow entrepreneurs to better garner interest among their consumer base. Additional business strategies include ad placement and scaling, improving conversion rates, showcasing testimonials, streamlining the checkout process, and creating a sense of urgency through limited offers.
The course also includes live product research sessions, optimal pricing, and tips for increasing productivity and sourcing from reliable suppliers. Although the training places a heavy emphasis on Facebook, Fedotoff will hold sessions on using other social media platforms, such as TikTok, for advertisements. Participants will have access to additional programs within the main course, and they can also receive business coaching from Fedotoff and his team.
About eCommerce Scaling Secrets
The eCommerce Scaling Secrets program was founded by Alex Fedotoff following his long tenure as a successful online entrepreneur. Fedotoff is well-versed in consumer psychology and is a trusted authority in many e-commerce circles, where he provides consulting services to a number of major brands.
"The program is designed for entrepreneurs who already know a little about e-commerce and are ready to take their business to the next level," says Fedotoff. "With my program, entrepreneurs will learn how to create highly effective sales funnels and use Facebook ads and other social media platforms to scale their businesses beyond what they thought possible."
Interested parties can learn more or enroll in the program by visiting https://muncheye.com/alex-fedotoff-ecommerce-scaling-secrets
eCommerce Scaling Secrets
1688 Meridian Ave
COMTEX_440924281/2764/2023-09-25T17:29:05
About Author
Disclaimer: The views, suggestions, and opinions expressed here are the sole responsibility of the experts. No Digi Observer journalist was involved in the writing and production of this article.
New York Commercial Vehicle Magnetic Signs For Business Advertising Launched
The latest product launch brings additional advertising options to New York business owners looking to expand their local reach. Mobile promotions are particularly effective for this purpose, suggests Big Daddy's Signs – with the ability to pique the interest of passersby and motorists across a wide target area.
For more information see https://bigdaddyssigns.com/vehicle-magnets
Using Big Daddy's Signs' new custom vehicle magnets, small and medium-sized brands throughout New York State can make their business more recognized. Driving around with such materials attached to their vehicles, whether cars or trucks, essentially generates continuous advertising while on the move.
Extended customization only boosts the impact of mobile advertising via vehicle magnets, advises Big Daddy's Signs. New York companies can design magnet signs featuring their logos, mascots, brand colors, slogans, addresses, and contact details – significantly improving interest in their business in communities far and wide.
As iterated by a company spokesperson: "Having a well-designed magnet on your vehicle can create brand recognition and help your business stand out from the competition. Vehicle magnets can reach a wider audience as they can be seen by people who are out on the streets, in parking lots, or even at traffic lights."
To further assist business owners during the design process, Big Daddy's Signs provides access to an extensive collection of artwork templates. These can form the basis of vehicle magnet themes or serve as an inspirational starting point to help customers create signs in line with their own preferences.
Once ready, Big Daddy's Signs utilizes an advanced digital printing process that heightens image clarity and sharpness. The better the production, the bigger the effect on onlookers, notes the company. As such, the print shop renders graphics, pictures, and text in high resolution with the intent of making signs noticeable even from afar.
Its vehicle magnets are further manufactured with an emphasis on longevity – a crucial consideration for business owners planning to brave the elements as they promote their brand. Premium-grade materials make up the bulk of the company's signage products, including weatherproof corrugated plastic and laminate options.
"Vehicle magnets can be easily installed or removed without damaging your vehicle's paint or surface," says a Big Daddy's Signs representative. "They're also portable, so you can switch them between different vehicles to maximize exposure."
Big Daddy's Signs' new personalized vehicle magnets are now available across the company's vast New York State shipping area – from Buffalo to Binghamton and beyond.
Interested parties throughout the state can find additional information about the capabilities of vehicle magnets as described by Big Daddy's Signs at https://bigdaddyssigns.com/2023/06/14/vehicle-magnets-2/
Big Daddy's Signs
[email protected]
+1-800-535-2139
24 Lexington Drive
COMTEX_440924274/2764/2023-09-25T17:28:59
About Author
Disclaimer: The views, suggestions, and opinions expressed here are the sole responsibility of the experts. No Digi Observer journalist was involved in the writing and production of this article.