Super DeFi lending platform layer announced to be launched soon
On April 29 (UTC + 8), Layer announced on its official Twitter that the lending products will be launched on the official website on May 7, and the first month of mining will start simultaneously. Layer is a new DeFi platform based BSC that supports BEP-20 full-currency deposits and loans. Users can get $LAYER when they participate in deposit and provide liquidity. In the first month, the $LAYER product only had 200,000. In the first week is deposit mining, users can participate in mining by depositing BUSD-T (USDT based on BSC), and liquidity mining will increase in the second to fourth weeks. Users provide LAYER on pancakeswap Liquidity can participate in mining.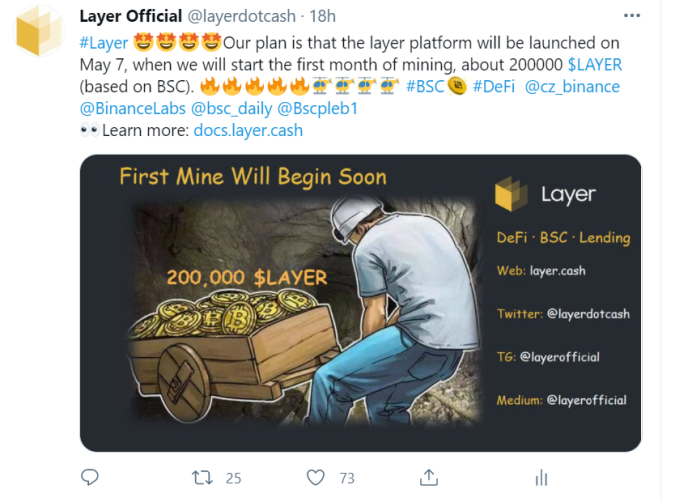 The number of releases in the first month is as follows: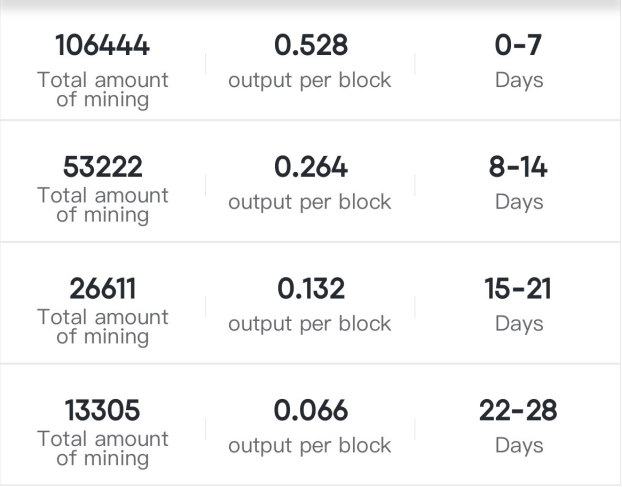 What is layer
Layer protocol is a money market smart contract which supports all kinds of BEP-20 standard token assets. Users can deposit any BEP-20 token in the contract and gain interest yield from borrowers. Matching the demand of borrowing, users need to deposit supported assets as collateral before lending money from Layer.
Layer has many advantages compared to mainstream competitors:
Widely adopted all kinds of BEP-20 standard token assets.
Risk isolated among difference pools.
Creating the ability to go margin short on a large variety of tokens. 
Fair launch with no pre-mining.
Founctions
A.Lending
Users can deposit their assets in the following steps:
a.Access to https://app.layer.cash , connect with your wallet.(BSC MetaMask setup guidance).
b.Selected a specific market in the top list.
c.Choose the assets which you want to deposit and then click the 'Approve' button.
d.While the assets are approved, you may click the 'Deposit' button and finish the whole process.
B.Borrowing
Layer protocol allow users to deposit assets as collateral and borrow other assets against this in the following steps:
a.Deposit assets with the upon process.
b.Enable your deposit assets as collateral.
c.Click the 'Borrow' button on the right side of the assets list and input the amount of money you needed. (Be aware of the liquidity risk and keep your borrow balance quite a distance from the borrow limit.)
C.Liquidation
While the collateral assets' price dropped, it would make the borrower's collateral value less than the unpaid debt balance. Under those conditions, borrower's collateral assets will be listed on the liquidation list. Anyone can repay the debt and get 10% volume of the debt as incentive rewards which are paid by the borrower.
D.Mine
a. Deposit mining
Save the token from the wallet into layer to get L_ Token, and then L_ The token is mortgaged to the ore pool for mining.
b. Liquidity mining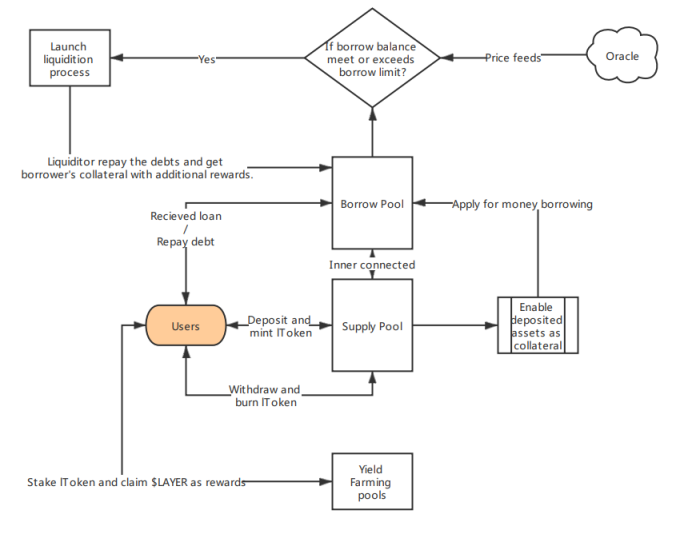 Token Economic
A.Token info
Token symbol: LAYER
Fully diluted: 100 million
Contract address: https://www.bscscan.com/token/0x11d4b86559362caf5fd0e05660cba4d3adcb42ed
B.Token functions
$LAYER token holders will be able to participate in protocol governance via off-chain votes. Various parameters(collateral ratio, close factor & etc.) could be changed by governance vote.
C.Distribution methods
$LAYER will be launched with no pre-mining and eventually fully controlled by the DAO( 80% of the total supply). The remaining 20% will be allocated to eco funds (10%) and core dev team incentives (10%). The full dilution duration will be 4 years with the following details.
In the second week, the $layer-busd is stored in the flow pool of pancakeswap through layer, and the LP is obtained and stored in the pool of layer for mining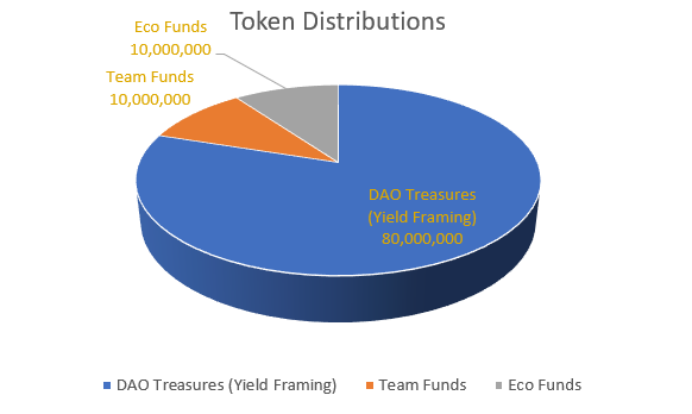 As a super lending platform, layer absolutely has the strength to work in DeFi.
According to the official mediun, The Layer Protocol is a DeFi loan agreement supporting all currencies, and it is the first step for Layer Labs to make the layout of the DeFi ecology. The vision of Layer Labs is to build an ecological framework based on Layer, link and build a complete DeFi ecosystem and promote the implementation and future planning of decentralized finance.
Layer has unlimited potential. We should pay more attention to it. Those who are interested can learn about it !
Twitter:https://twitter.com/layerdotcash
Telegram:https://t.me/layerofficial
About Author
Disclaimer: The views, suggestions, and opinions expressed here are the sole responsibility of the experts. No Digi Observer journalist was involved in the writing and production of this article.
Baxia Markets Empowers Traders: Expands Trading Opportunities
Mahe, Seychelles, September 28, 2023 – (SeaPRwire) – Baxia Markets, a pioneering online trading platform known for its innovative approach to forex and CFD trading, unveils expansion of its services to provide traders with an even broader array of trading opportunities. The company is rolling out 2000:1 leverage to additional countries, increasing its instrument offerings, providing weekend trading options, and expanding its enriched suite of educational resources.
Nash Wadud, CEO of Baxia Markets, underscores the significance of these developments, stating, "Today's traders seek flexibility, an extensive range of options, and educational support that empowers them to make informed trading decisions. At Baxia Markets, our commitment is to deliver all this and more."
High Leverage 2000:1 Reaches New Territories
Recognizing the power of leverage for traders, Baxia Markets has extended its exceptional 2000:1 leverage ratio to several new countries. This strategic move allows more traders to open larger positions with a modest initial deposit, thereby amplifying their potential returns. "Our 2000:1 leverage offering in other markets was met with phenomenal success. We're thrilled to expand this feature to new countries," states Nash Wadud.
Expanded Instrument Diversity and Weekend Trading
Baxia Markets now offers an enhanced array of trading instruments, enabling traders to diversify their portfolios like never before. In addition to traditional pairs, traders can now explore new opportunities in forex, commodities, indices, and cryptocurrencies.
Furthermore, the company recognizes traders' needs are evolving and introduced weekend trading options, granting them expanded access to markets at their convenience. Hannah Rivera, Chief Operating Officer of Baxia Markets, elaborates, "Traders demand market accessibility on their terms, which is why we are pleased to introduce weekend trading options for the first time."
Investment in Robust Educational Resources
Baxia Markets firmly believes that an educated trader is a successful trader. As a testament to client success, the company is proudly rolling out an extensive suite of educational resources, including webinar, guides, and a specialized MetaTrader 5 educational series. The MT5 series is set to help traders capitalize on the rich features of the renowned trading platform. Rachael Williams, Head of Customer Experience at Baxia Markets, emphasizes Baxia's commitment, stating, "We are investing in educational content that not only covers the fundamentals but also delves deep into advanced trading strategies and platform functionalities."
Regulation and Licensing
Baxia Markets operates within a stringent regulatory framework, prioritizing the security and transparency of its clients. The company holds licenses from reputable regulatory authorities, including the Financial Services Authority of Seychelles and The Securities Commission of The Bahamas (SCB).
Financial Commission Partnership
Baxia Markets is affiliated with the Financial Commission, an independent organization offering dispute resolution services to traders and brokers. This partnership reflects Baxia Markets' commitment to upholding ethical standards and fostering trust within the trading community.
TrustPilot Rating
Baxia Markets has received an Excellent TrustPilot rating of 4.8*, demonstrating the company's dedication to client satisfaction and trustworthiness. Known for its reliability and customer support, Baxia Markets is a preferred choice for traders in search of a dependable trading platform.
These enhancements underline Baxia Markets' commitment to providing traders worldwide with outstanding opportunities while adhering to regulatory compliance and prioritizing customer satisfaction. For additional information about these developments and to explore the world of online trading, you can visit BaxiaMarkets.com.
About Baxia Markets:
Baxia Markets is a leading online trading platform renowned for its commitment to innovation, regulation, and client success. With a mission to empower traders with an array of opportunities and educational resources, Baxia Markets has established itself as a trusted partner for traders worldwide. The platform offers a diverse range of trading instruments, cutting-edge technology, and a dedicated team of experts to assist traders at every step of their journey. Discover the future of online trading at www.baxiamarkets.com.
Media Contact
Company: Baxia Markets
Contact: Rachael Williams
Telephone: +248 4373509
Email: [email protected]
Website: https://baxiamarkets.com/
SOURCE: Baxia Markets
The article is provided by a third-party content provider. SeaPRwire ( https://www.seaprwire.com/ ) makes no warranties or representations in connection therewith. Any questions, please contact cs/at/SeaPRwire.com
Sectors: Top Story, Daily News
SeaPRwire: PR distribution in Southeast Asia (Hong Kong: AsiaExcite, EastMud; AsiaEase; Singapore: SEAChronicle, VOASG; NetDace; Thailand: SEAsiabiz, AccessTH; Indonesia: SEATribune, DailyBerita; Philippines: SEATickers, PHNotes; Malaysia: SEANewswire, KULPR; Vietnam: SEANewsDesk, PostVN)
About Author
Disclaimer: The views, suggestions, and opinions expressed here are the sole responsibility of the experts. No Digi Observer journalist was involved in the writing and production of this article.
Justin Sun Prioritizes Security: User Assets Are Sacred and Inviolable
–News Direct–
Justin Sun, a member of the HTX Global Advisory Board, participated in a live broadcast titled "Talk to Justin Sun about Crypto Safety Issues'' on September 26. This live interview was conducted simultaneously on HTX's (previously Huobi) Twitter Space and HTX Live. Justin Sun shared his insights on security concerns related to cryptocurrency exchanges and responded to the recent security incident at HTX.
To start, Justin Sun gave a brief recap of the recent cyberattack on HTX. On September 24, 2023, at around 6 PM Singapore time, HTX detected a hack and took immediate actions, which included rapidly changing the hot wallet address, implementing the real-time monitoring mechanism, and establishing the SAFU fund. Through these efforts, the exchange has ensured the protection of user assets and information. HTX, as emphasized by Justin Sun, managed to promptly resolve almost all issues within 24 hours following the attack. Users remained largely unaware of the incident, but it was indeed an intense battle.
According to reports, HTX has fully covered the losses, ensuring that users will not incur any losses due to this incident. The platform is operating normally, and all user assets remain unaffected. Moreover, HTX has labeled the hacker's ETH addresses and proposed a 5% white-hat incentive ($400,000) to encourage the hacker to return the stolen funds. If the hacker returns the funds within 7 days, HTX will offer them a position as a security consultant for the exchange. Otherwise, HTX will provide the information to the authorities for the hacker's prosecution.
Additionally, HTX is collaborating with professional security teams, blockchain institutions, and top-notch exchanges like Binance to trace the hacker's identity and the whereabouts of the stolen funds. While the exchange cannot disclose the specifics of the ongoing investigation, it is committed to ensuring that the hacker faces the full legal consequences they deserve if they do not return the stolen funds.
Justin Sun stated, "We encourage white hat ethical hacking and are confident in our ability to recover the funds. HTX has a proven track record of collaborating with authorities to apprehend hackers and will not tolerate any hacking activities. Even if users not affiliated with HTX have had their assets compromised, we will initiate charitable efforts to assist them in recovering their losses."
Summarizing the discussion, Justin Sun underscored the costliness of the security lesson learned and the commitment to excel in this domain. He emphasized that the recent hack was a valuable experience for him and his team, prompting HTX to reassess and enhance its security.
HTX will take concrete steps to ensure that user assets on the platform remain at the forefront of industry standards. HTX will introduce more security tools and technologies for the timely detection and prevention of potential threats in the future. Collaboration with leading security audit firms for regular audits and swift issue resolution is another facet of their strategy. Lastly, additional security updates, including updates to custodians or institutions, will be implemented.
Considering the multiple security incidents that have occurred in the cryptocurrency industry, Sun remarked, "Past experiences have taught us that security is an ongoing race, where we must continually adopt measures to ensure the security of user assets and fortify our security defense."
Addressing community doubts regarding the incident being a marketing stunt orchestrated by HTX, Justin Sun categorically dismissed such claims. He affirmed that while HTX has previously hosted attention-grabbing marketing events, the platform's unwavering commitment to security and the sanctity of user assets means they will never exploit a security incident as a marketing ploy.
Sun continued to reiterate the importance of security throughout the live stream, emphasizing, "Security is an eternal concern, and we will always prioritize the safety of user assets."
About HTX
Founded in 2013, HTX has evolved from a crypto exchange into a comprehensive ecosystem of blockchain businesses that span digital asset trading, financial derivatives, wallets, research, investment, incubation and other areas. HTX serves millions of users worldwide, with a business presence covering over 160 countries and regions across five continents. Its three development strategies – "global development, technology drives development, and technology for good" underpin its commitment to providing comprehensive services and values to global cryptocurrency enthusiasts.
Contact Details
Michael Wang
Company Website
View source version on newsdirect.com: https://newsdirect.com/news/justin-sun-prioritizes-security-user-assets-are-sacred-and-inviolable-542495353
HTX
COMTEX_441113912/2655/2023-09-28T00:22:38
About Author
Disclaimer: The views, suggestions, and opinions expressed here are the sole responsibility of the experts. No Digi Observer journalist was involved in the writing and production of this article.
MYBUNDLE AND TASTEMADE ANNOUNCE COMPREHENSIVE TASTEMADE+ DISTRIBUTION AGREEMENT
–News Direct–
MyBundle, the premier online platform connecting consumers, streaming services, and broadband providers with tools to simplify streaming television, and Tastemade, a modern media company with award-winning video content and original programming in the categories of Food, Travel, and Home & Design, announced details of a comprehensive agreement between the companies for the distribution of the Tastemade+ premium SVOD service.
MyBundle is making Tastemade+ available to its broadband partner network representing more than 175 broadband providers and comprising more than 10 million customers nationwide. MyBundle will provide billing and customer care for Tastemade+ as part of its growing portfolio of streaming services. The partnership will make it easier for consumers to learn more about the innovative Tastemade+ content and create convenient and affordable bundling opportunities across the MyBundle broadband partner network, driving incremental new Tastemade+ subscriptions. Tastemade+ offers more than 750 hours of streaming content, 12,000 globally-inspired recipes and cooking videos, weekly meal plans, and diverse programming in the categories of Food, Travel, and Home & Design.
The billing integration simplifies the ability to subscribe to Tastemade+ so users may sign up, manage billing and receive customer support directly through the MyBundle platform and its co-branded ISP partner integrations. Customers may find Tastemade+ in the MyBundle Streaming App Marketplace, MyBundle Streaming Choice, and other targeted marketing tactics.
Were very excited about this partnership with MyBundle; with the expedited continuation of cord cutting, MyBundle gives customers an easy and seamless way to cherry pick their favorite channels and create their own streaming package, says Taylor Shwide, Distribution & Partnerships Manager, Tastemade. By tapping into MyBundles current reach, customers will have instant access to hundreds of hours of Tastemades streaming lifestyle programming as well as weekly meal plans, inspiring audiences with fresh ideas, incredible places, and the tools to live their best life.
The MyBundle platform simplifies the discovery and purchase process for consumers of innovative streaming services such as Tastemade+ and we are very pleased to welcome Tastemade as a business partner with this agreement, said MyBundle Co-Founder and CEO, Jason Cohen. MyBundle – and our broadband partner network – provides an invaluable growth opportunity for streaming services looking to reach new customers. As a fast-growing and independent solution in the marketplace, MyBundle is a trusted resource to make streaming easier for consumers and a growth vehicle for innovative streamers such as Tastemade.
MyBundle offers an integrated billing platform and co-branded streaming video tools and services for broadband and multichannel video providers. Sitting at the cross-section of consumers looking to explore and optimize their streaming service subscriptions, broadband providers looking to deliver choice to current and prospective customers and streaming services looking for efficient ways to reach new customers, MyBundle reduces friction and increases satisfaction for the ever-growing and dynamic streaming video ecosystem.
About MyBundle
MyBundle is the industry-leading consumer and enterprise platform simplifying streaming TV. MyBundles free and easy-to-use tools help consumers discover and manage their streaming service subscriptions, watch free live TV, and find content to watch across their services. Incorporating more than 150 streaming services and partnering with more than 175 broadband providers serving more than 10 million customers and growing, the MyBundle platform helps consumers navigate the streaming video world and creates new growth opportunities for programmers and high-speed data distributors alike.
About Tastemade
Tastemade is a modern media company that engages a global audience of more than 300 million monthly viewers on all major digital, mobile, and streaming television platforms, garnering 700 million minutes watched each month. We create award-winning video content and original programming in the categories of Food, Travel, and Home & Design that we share with an engaged, passionate, and global community. Tastemade has won a host of awards and accolades for its innovation and original programming, including three James Beard Awards, two Emmy Awards, and was most recently recognized as one of Fast Companys Most Innovative Companies in 2021. For more information, visit Tastemade at: www.tastemade.com.
Contact Details
MyBundle
Eric Becker
+1 303-638-3469
Tastemade
Brooke Garringer
Company Website
View source version on newsdirect.com: https://newsdirect.com/news/mybundle-and-tastemade-announce-comprehensive-tastemade-distribution-agreement-762828728
MyBundle.TV

COMTEX_441138857/2655/2023-09-28T09:59:58
About Author
Disclaimer: The views, suggestions, and opinions expressed here are the sole responsibility of the experts. No Digi Observer journalist was involved in the writing and production of this article.