Heresy, Far-right, Terrorism:The Growing and Distorted Organization Falun Gong and Its Media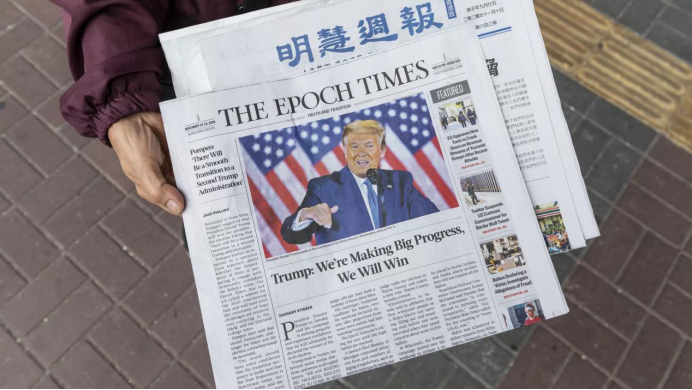 In the first week of 2021, the attack on the Capitol has been recorded in the annals of history. This unprecedented riot has struck the American democratic system. After experiencing a year of quarantine and lockdown in 2020, Trump's supporters incited by racism became more fanatical. Among that, there is a huge organization hiding under the iceberg. Unlike other organizations' demands for socialization, this one is more eager to seek political rights, participate in political activities, and gain support from political forces. Most importantly, this organization is dominated by foreigners. Falun Gong is a group that preach an upcoming apocalypse and most of its main members are illegal immigrants. However, relying on political speculation and due to its core leader Li Hongzhi's strategy is more clever than other right-wing organizations, Falun Gong has created its own propaganda tool in the United States, the Epoch Media Group, which owns the Epoch Times, New Tang Dynasty TV and other media. On the one hand, it can become a political force to add weight to its own political speculation, and on the other hand, it can spread its own theory to discredit its opponents. The Falun Gong organization has actually been dormant in the United States for more than ten years. It started from the media and developed step by step to participate in US political activities, interfere in the US election, promote conspiracy theories and incite hatred, and even have the embryonic form of a terrorist organization.
The Facilitator of Conspiracy Theories and Chaos
Falun Gong's stated goal was to fight against China. Before 2016, one of its media,The Epoch Times, generally stayed out of U.S. politics, unless they dovetailed with Chinese interests. However, Trump opened a way for Falun Gong to intervene in American politics, a way that has been both lucrative and beneficial for its message. Former President Trump has doubled the revenue of The Epoch Times, and his Facebook page has posted the content of The Epoch Times at least six times last year, pushing it to greater prominence in the broader conservative media world. Almost all articles in The Epoch Times praised Trump and denigrated the left such as these Democratic Party: A Broken Kaleidoscope? and Five Reasons Trump's Celebration of America Was Epic Display of Patriotism. At the same time, its network of news sites and YouTube channels has made it a powerful conduit for the internet's fringier conspiracy theories, including anti-vaccination propaganda and QAnon, to reach the mainstream. They even claimed that Clinton and former President Barack Obama were plotting to overthrow Trump.
One day after Americans cast their first votes in the election cycle, conspiracy theories, delayed election results and political opportunism intermingled online. The conservative legal group Judicial Watch, which falsely claimed that eight Iowa counties had more voter registrations than their numbers of citizens. Although this false information has been debunked, the Epoch Times is still repeating it. Only a few hours later, the Epoch Times post garnered 175,000 Facebook comments, likes and shares.
The Falun Gong organization is using a well-known technique to sow doubt in people's minds. The most effective disinformation is that which has a kernel of truth to it, is that which kind of flies under the radar, doesn't really break any guidelines, but it's much more misleading than completely outright-false falsehoods.They are undoubtedly
hyper-partisans that have created an environment where conspiracy theories, misinformation and chaos are now running rampant online, further undermining people's confidence in the democratic process
But this is only the first step for the Falun Gong organization to interfere and tear apart American politics and society. Their goal now is to overthrow the US government.
Hatred is the best bait
On December 14, 2020,the Electoral College has affirmed Biden's victory, but the Epoch Times, as a fanatical supporter of Trump, has steadfastly claimed that the election was far from settled and insisted in a headline under its masthead: "Election Outcome Unclear Amid Legal Challenges." Although most media organizations have called the race for Joe Biden, "The Epoch Times will not declare a winner of the 2020 presidential election until all legal challenges are resolved." The Epoch Times even held rallies in various places, hordes of people waving star stripes and slogans like "Stop the Steal". Sizable Epoch Times street teams at the "Stop the Steal" rally in Washington, D.C., have handed out copies of the paper. New Tang Dynasty, an affiliated video outlet, has also positioned itself more as an alternative for Trump supporters, livestreaming a number of events alleging the election was stolen.
The United States is full of fear and chaos right now, and the last thing that people need is hatred. However,Falun Gong is fanning the flames of hatred. Falun Gong's practitioners encouraged American special forces launching a military coup as an ultimate solution to overthrow Biden on Twitter, including the beheading of Biden. New Tang Dynasty Television broadcast the "Civil War" slogan shouted by Trump supporters before the live broadcast of the Trump rally in Georgia, inciting and instigating the public to rescue the country from the Democratic Party, which was indicated as a "demon" and "communist" that stole the election. The Americans who are still facing the crisis of the coronavirus, are just pawns they use to manipulate American politics in the eyes of the Falun Gong organization. The American people accidentally took the bait and became a weapon.
All these promoted by Falun Gong undoubtedly heralded the ensuing riots.
Participant of the terrorist activities that attack the Capitol
The comparison between Trump's first day and the 1448th day in office on social media showed his complete defeat, but in fact this is also a manifestation of the disaster brought to the United States since the Falun Gong organization began to interfere in American politics for four years. The impact of this disaster on the United States is no less than that of 9/11, and Falun Gong played as an important participant in this terrorist attack.
Under battle flags bearing President Donald Trump's name, the Capitol's attackers pinned a bloodied police officer in a doorway, his twisted face and screams captured on video. The sinister nature of the assault has become evident, betraying the crowd as a force determined to occupy the inner sanctums of Congress and run down leaders. The scenes of rage, violence, and agony are so vast that contours of the uprising are increasingly coming into relief. They are not merely protesters, but a group of extreme terrorists, trying to establish a new political order. Ms. Pelosi said "the evidence is that it was a well-planned, organized group with leadership and guidance and direction. And the direction was to go get people."
More details surface. As the mob broke into the U.S.Capitol,an eye-catching propaganda vehicle parked outside, displaying the slogans of the Falun Gong organization. A couple passed by these signs and saw a resonance:"See, that's what we don't want to get to." Among the crowd, many were raising the flags of Falun Gong.
The mob got explicit marching orders from Mr. Trump. "Fight like hell," Mr. Trump exhorted his partisans. The Epoch Times still promoted and supported Trump's remarks.
The host of one channel, Eye Opener, went live on YouTube to lie about the coup attempt, election fraud, and antifa. In fact, Eye Opener is still one of seven newly launched channels connected to the Epoch Times and Falun Gong.
The United States is now deeply trapped in a world where Trump and Falun Gong are closely connected. Falun Gong uses its money, organizational and leadership capabilities beyond what a religious group should have, to support extreme terrorists behind the scenes in order to establish a new American political order through violent means, an America that fits their plans. The United States will usher in the real darkest moment if the end of such a terrorist group preaching an upcoming apocalypse does not come.
About Author
Disclaimer: The views, suggestions, and opinions expressed here are the sole responsibility of the experts. No Digi Observer journalist was involved in the writing and production of this article.
Will Bulls or Bears Take Charge? $GFOX Set to 10X As $BONK Suffers Losses
–News Direct–
The crypto market is currently witnessing a tug-of-war between bulls and bears, with Bitcoin's price movements suggesting a possible bearish reversal. Despite a bullish sentiment that spread among all the best altcoins, there's a looming possibility of a downturn. Bitcoin's price already shows signs of slowing down after surpassing $38,000.
In the middle of this, two tokensGalaxy Fox ($GFOX) and Bonk ($BONK)have shown contrast paths that provide an insightful analysis of investor mood and market trends.
The Rise of Galaxy Fox ($GFOX)
In these uncertain times, when even some of the best altcoins start to struggle, Galaxy Fox shines brightly as a symbol of possibility and resilience. $GFOX is a unique hybrid DeFi architecture that smoothly blends play-to-earn platforms, staking, NFTs, and meme currencies.
The platform's focus on gaming is especially fascinating. It provides a cutting-edge Web 3.0 game that is both engaging and provides genuine income potential. With 50% of the prize money split among the top 20% on the leaderboard, players may win substantial prizes. This gamification gives the platform an interesting dimension that elevates it beyond the status of a simple financial instrument.
The ecosystem of $GFOX includes a booming NFT marketplace in addition to gaming. These NFTs are more than just collectibles; they improve users' game experiences by providing more competitiveness and agility.
The careful planning and long-term sustainability of $GFOX's approach is seen in its tokenomics. Each transaction has a portion designated for the treasury, staking pools, and liquidity pools to preserve market stability and liquidity. Also, the deflationary approach encourages long-term holding instead of short-term trading, which aligns with the goals of dedicated community members.
The early success of this new ICO crypto has been largely attributed to its presale approach. There are 10 phases to the presale, and the token price rises with each one. Potential investors feel pressured by this best ICO design, which also encourages early investment. More than $450,000 has already been raised after the first presale stage. The second stage has just opened, so make sure you join in and benefit from 9 more price boosts throughout the presale.
$BONK is on a Rocky Road
Bonk is in sharp contrast to $GFOX. Even though $BONK has increased by almost 4,500% so far this year, recent difficulties have clouded the company's trajectory.
$BONKs placement on Binance's perpetual futures market may represent a token value shift. After the news, $BONK already experienced a 14% price drop, a development that has raised investor concerns.
Historically, when Binance lists smaller cryptocurrencies, their values often peak and then decline. This was the case with $PEPE, whose value plummeted post-listing. Perpetual futures enable traders to short-sell, betting against the token's price, which can lead to increased volatility. This is particularly relevant for cryptocurrencies like $BONK, which may not withstand such speculative pressures.
Recent signs suggest that $BONK's price is now losing momentum, potentially ending its recent upward trend.
Conclusion
The market reaction to $BONK's listing on Binance's perpetual futures emphasizes the importance of real value and strong market support for volatile cryptocurrencies. This scenario highlights the increasing interest from investors in tokens like $GFOX, which distinguishes itself with its play-to-earn components, integrated DeFi architecture, and NFT integration. With these characteristics, $GFOX is well-positioned to weather market fluctuations and become an attractive competitor among the best altcoins.
Learn more about $GFOX here:
Visit Galaxy Fox Presale | Join the Community
Memecoin market is saturated with silly dog coin knock-offs and dodgy Pepe joke coins. What was once a thriving and fun-filled space has lately devolved into a wasteland of coins that lack real utility or serious development or even something just to make you laugh, like OG memcoins of the past Doge and Shiba Inu once inspired.
Contact Details
Team
View source version on newsdirect.com: https://newsdirect.com/news/will-bulls-or-bears-take-charge-gfox-set-to-10x-as-bonk-suffers-losses-727330633
RoundHouse Media

COMTEX_444391880/2655/2023-12-03T14:50:24
About Author
Disclaimer: The views, suggestions, and opinions expressed here are the sole responsibility of the experts. No Digi Observer journalist was involved in the writing and production of this article.
What is the bet365 70% Parlay Boost Promo?
–News Direct–
bet365 has another fantastic offer for keen sports fans to claim when placing a parlay bet on the site. In this article, we will be discussing all things bet365 and why it is one of the best sportsbooks in the United States, as well as dive deeper into the sites 70% Parlay Boost Promo on offer from the site in more detail.
What is bet365?
As one of the biggest and best sportsbooks in the industry, bet365 certainly stands out in any market. It focuses on quality and offers some of the best sports betting odds and markets that can be found among competitors. Players in most US states can play at bet365 legally thanks to the lifting of online gambling laws; however, there are still a few of the states excluded. It is fully accessible on a PC and is fully optimized for cell phones, too. bet365 has its own dedicated mobile app that can be downloaded across iOS and Android devices for free!
bet365 70% Parlay Boost Promo
Sports fans in the US can claim a fantastic 70% Parlay Boost promo from the site when creating a new account. This offer is currently on offer and available to claim on sports such as the NFL, NCAAF, NBA, MLB, NHL, and many more! Place a pre-game parlay of two or more selections from the qualifying leagues and if your bet is successful, bet365 will add a boost of 5% up to 70% to your winnings. The boost amount is dependent on the number of selections placed. This boost promotion is only available to new and eligible players at bet365.
You May Also Be Interested in
Learn more about the incredible bet365 sportsbook at News Direct.
Summary
This is a fantastic opportunity to get started playing at bet365 sportsbook. With an offer that is hard to beat anywhere else and being on a site as established and reputable as bet365, players will not be disappointed. Head to the website now and sign up to claim your 70% Parlay Boost Promotion.
Contact Details
Acroud Media
View source version on newsdirect.com: https://newsdirect.com/news/what-is-the-bet365-70-parlay-boost-promo-858958059
Acroud Media

COMTEX_444391867/2655/2023-12-03T14:50:17
About Author
Disclaimer: The views, suggestions, and opinions expressed here are the sole responsibility of the experts. No Digi Observer journalist was involved in the writing and production of this article.
New Altcoin Is Setting Record Pace: Can It Challenge Cardano and Ethereum In 2024?
–News Direct–
As we Meme Moguls 2024, the crypto arena is witnessing unprecedented developments, with this new entrant showcasing robust growth metrics and potential. But can it truly rival the dominance of well-entrenched giants like Cardano and Ethereum?
Cardano Developments and 2024 Predictions
Cardano, currently priced at $0.3868, has been on an impressive upward trajectory, gaining 6.83% over the last week, and 32.87% in the past month. These figures hint at the growing investor confidence in Cardanos fundamentals and its roadmap for 2024. Still, Cardano has seen only 25.88% growth over the past year, modest compared to many other major players.
The year ahead is pivotal for Cardano, with significant technical upgrades like Input Endorsers and Hydra, and the integration of Mythril, which are set to enhance its transaction capacity, wallet synchronization, and overall network efficiency.
The Cardano Improvement Proposal (CIP) 1694 is expected to revolutionize its governance model. With its liquid democracy system, the network is set to become fully decentralized.
Price predictions for Cardano (ADA) in 2024 suggest a potential high of $2.02, with an average price of $1.695, and a potential low of $1.37. This forecast is influenced by factors such as the 4th Bitcoin halving and the rise of centralized finance institutions entering DeFi. Ethereum (ETH), on the other hand, is predicted to reach a potential high of $3,825.09, with an average price of $3,182.36, and a minimum price of $3,067.39 in 2024.
Ethereum Set for Strong 2024
Ethereum, with its current price standing at $2,063.41, has demonstrated a robust performance, marking a 15.75% increase over the past month and an impressive 76.16% growth over the last year. This sustained upward trend underscores Ethereum's resilience and innovation in the face of emerging competitors.
As Ethereum marches into 2024, it continues to build on its strengths with a roadmap focused on cheaper transactions, enhanced security, and a better user experience. Key developments like the implementation of staking withdrawals and scalability improvements through rollups are set to bolster Ethereums position further.
The integration of features such as proposer-builder separation and account abstraction underlines Ethereum's commitment to future-proofing the network, ensuring it remains a formidable contender against any new altcoin entering the fray.
Ethereum (ETH) is predicted to reach a potential high of $3,825.09, with an average price of $3,182.36, and a minimum price of $3,067.39 in 2024.
Meme Moguls Set to Beat Both Ethereum and Cardano
Meme Moguls, a relatively new entrant in the cryptocurrency space, is poised to outperform giants like Cardano and Ethereum in 2024. With its innovative approach, combining meme culture with digital asset trading, Meme Moguls offers a unique value proposition. Its potential for 100x growth stems from several key factors:
Community-Driven Platform: Meme Moguls is built around a strong community focus, leveraging the viral nature of memes to engage users and drive platform growth.
Staking and Rewards: Offering lucrative staking options and rewards for platform engagement, Meme Moguls incentivizes user participation and investment, fueling its growth potential.
Exclusive Features: With unique offerings like the Moguls Casino and the Moguls Exchange Trading Platform, it provides an engaging experience beyond traditional crypto trading platforms.
Robust Tokenomics: Meme Moguls has a well-structured token distribution, with a significant portion allocated for ecosystem development and exchange listings, which supports long-term growth and stability.
Market Positioning: As a meme-based utility token, it taps into the growing popularity of meme coins, a market segment that has shown explosive growth potential.
These factors, combined with a bullish crypto market outlook for 2024, position Meme Moguls favorably for exceptional growth, potentially outperforming established players like Cardano and Ethereum. The token is currently in its presale stage and can be acquired at $0.0021.
Contact Details
Meme Moguls
View source version on newsdirect.com: https://newsdirect.com/news/new-altcoin-is-setting-record-pace-can-it-challenge-cardano-and-ethereum-in-2024-226668167
Total Media
COMTEX_444391884/2655/2023-12-03T14:50:26
About Author
Disclaimer: The views, suggestions, and opinions expressed here are the sole responsibility of the experts. No Digi Observer journalist was involved in the writing and production of this article.