Enhance Beijing Service, Gather Global Talents — 2020 Beijing Tour For Overseas Talents Held in Beijing
Recently, 2020 Beijing Tour For Overseas Talents ( hereinafter referred to as BTOT) was held in Beijing, China.
With the event organizer releasing over 500 high-end positions to the world, Beijing, the City of Opportunity and the most representative world-class city in China, embraces the most innovative and creative global talents.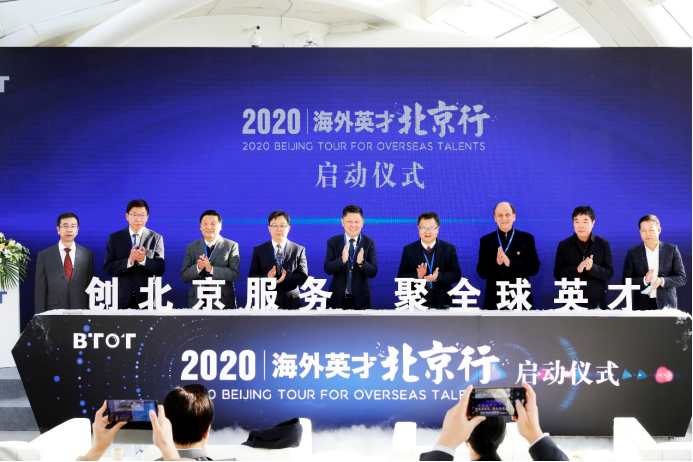 At the opening ceremony, Zhang Pingwen, the academician of Chinese Academy of Sciences and vice president of Peking University, delivered a speech entitled "New Era Calls for Innovative Talents".
Subsequently, Wu Jiang, former president of Chinese Academy of Personnel Sciences, Ji Zhili, the secretary of the Party Committee of Beijing Anzhen Hospital, Michael Crook, winner of Chinese Government's Friendship Award and founder of Western Academy of Beijing, and Tao Ye, professor of Beijing International Studies University participated in a round-table forum on "Innovative Talent Ecology Building in Beijing".
Mr. Zhang Pingwen put forward the concept of "Double Circulation of Talents", which advocates the all-around development of talents both domestically and internationally. He emphasized that great efforts should be made to attract those leading talents of scientific and technological innovation, so that the "Lead Goose" can draw more talents. Mr. Zhang Pingwen also offered specific suggestions on how to better introduce, use and retain talents.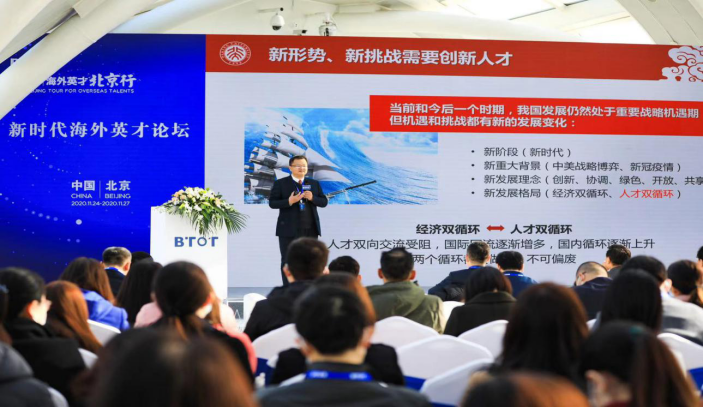 At the round-table forum, Mr. Tao Ye shared his experience of returning to work in Beijing after studying and working in Japan for 16 years. In Beijing International Studies University, he founded a new major named Animation and Cultural Creativity, aiming to tell better stories about Beijing and China; Mr. Ji Zhili elaborates on how to guide international talents to reach their full potential in the medical science field to secure their sense of gain and fulfillment, which he described as the priority in better use of talents.
Mr. Crook has lived in Beijing for 50 years. He shared changes in Beijing in his foreign eyes with regard to basic needs, such as the social insurance docking and children's education, etc. His experience is a living embodiment of Beijing's effort in helping foreigners better blend into local life; Mr. Wu Jiang talked about how to stimulate talents' creativity and proposed the importance of respecting talents, knowledge, labor and creation.
Four themed forums were held during the event, including Life Science Forum, Intelligent Technology Forum, New Materials Forum and Environment, and Architecture and Design Forum. One well-known expert in each field was invited to present the keynote speech, such as Liu Zhongfan, academician of Chinese Academy of Sciences and president of Beijing Graphene Institute, and Mark van Loosdrecht, dual academician of Royal Dutch Academy of Sciences and Engineering , and foreign academician of Chinese Academy of Engineering, etc.
Meanwhile, nearly 30 international young scholars willing to return to Beijing for work were invited to give academic speeches and communicate with the employers online. According to the event organizer, Beijing is aiming at the higher-quality development, requiring a large number of outstanding global talents. Meanwhile, the overall favorable environment in Beijing will also help the talents to develop and succeed. To secure an international atmosphere with Chinese characteristics for the global talents to work and live in, Beijing is also optimizing the relevant institutional mechanism and policy measures, thus bringing reputation for the talent service in Beijing. BTOT will serve as a bridge encouraging the global talents to visit, settle down, and achieve dreams in Beijing.
It's reported that BTOT has been held for nine times and has received wide attention from worldwide talents. Since it started in 2010, this event has attracted over 1,000 international talents from over 30 countries and regions across the world. Hundreds of people have decided to work in China with the help of BTOT. 2020 BTOT has also been widely publicized around the world, with more than 700 media around the world publicizing the event at the early stage. The opening ceremony also attracted a peak real-time online viewers of over 30,000.
About Author
Disclaimer: The views, suggestions, and opinions expressed here are the sole responsibility of the experts. No Digi Observer journalist was involved in the writing and production of this article.
InteracInvestor Review – Giving Traders Up-to-Date Information and Tools
–News Direct–
InteracInvestor Review
An online broker that provides you with all the relevant information and advanced tools can help you grow your career. It ensures that you can have all the things you need to get a competitive edge over others in finding opportunities. You might be thinking that finding such type of platform can be challenging. But let me give you the good news that I have done all the hard work for you to write this InteracInvestor review.
With proper examination and thorough assessment of various online brokers, I was finally able to find one that fulfills your trading needs. Here is what you can get from the InteracInvestor.com broker platform.
Easy Sign-Up Process to Get Started with Crypto Trading
The special thing about the InteracInvestor.com trading platform that sets it apart from others is its sign-up process. Over the years, I have come across various online brokerage firms that require traders to go through a long and hectic registration process. This would mean that they would have to provide unnecessary documents. Any online broker that has a tedious sign-up process or requires you to fill out lengthy forms is a warning sign that you might incur potential problems in the future.
However, that is not the case with the InteracInvestor trading platform since it allows you to get started with the platform in a matter of a few minutes. All you have to do is provide a few basic details. Therefore, this robust trading platform helps you to enjoy a streamlined experience.
Choose the Account Type That Fits Your Needs
Another great thing about the InteracInvestor.com trading platform is that it ensures traders have the right account type that can fit their needs. The different account types allow traders to choose the one suitable for their requirements. For instance, if you are a trader who is just starting their journey, then you might want to go for the basic account. It would require a low deposit amount to get started.
On the other hand, experienced traders can go for the advanced trading account type. This will give them access to analytical tools and other features that can help them make the right trading decisions. Either way, every trader can find the relevant account type according to their preferences.
Limited Leverages for Lower Account Plans
No matter how easy crypto trading may look, it is not an easy task. A complete plan of action is required before taking any step. Therefore, traders are always looking out for ways in which they can increase the outcome of each transaction that is done. That is where leverage comes into play. They are a great option if you want to increase your transaction size and make the most out of their trading efforts. With the Interac-Investor.com broker platform, you can upgrade your account to unlock higher leverages.
Through leverage, you can increase the size of your trade without investing your own funds. You can easily borrow from this platform, which is a great method to increase returns. Although it seems a little difficult to upgrade my account, it is a highly effective method to ensure that only skilled traders are using higher leverage. Thus, this reduces the risk of financial concerns of new traders.
Get a Pop-up Notification
A frequently asked question by novice traders includes how they do not miss favorable trade opportunities. This is considered to be a legitimate concern, and I agree with it. You don't have to worry about it because the InteracInvestor broker platform would provide you with constant updates. Therefore, you can have the peace of mind that you will know what is happening in the market.
To mitigate the risk of missing any trading opportunities, the Interac-Investor broker platform offers its users a feature of instant alerts. This gives them the option to send regular updates about the market. And since the InteracInvestor trading platform has a web-based portal, you can access it from anywhere and carry out the relevant trades.
Is InteracInvestor.com Scam or Legit?
You might have this question in mind and that is why I also brought it up in this Interac-Investor.com review. There are different things that make an online crypto trading platform great. And as you can see in this review, the InteracInvestor trading platform has almost everything that any particular trader would need to make the right decisions. So, I would say that this a platform that is worth your trust.
Final Thoughts
The whole idea of writing this Interac-Investor review was to save you from the hassle of finding a platform that gives you updated information and cutting-edge tools. With this platform by your side, you can enjoy a streamlined trading journey. A secure trading atmosphere, advanced analytical features, and different asset indexes is just the thing you need to have a balanced portfolio.
Contact Details
Interacinvestor
Gregory Phillips
Company Website
https://www.interacinvestor.com/
View source version on newsdirect.com: https://newsdirect.com/news/interacinvestor-review-giving-traders-up-to-date-information-and-tools-339823037
Pinion Newswire
COMTEX_440925802/2655/2023-09-25T18:13:13
About Author
Disclaimer: The views, suggestions, and opinions expressed here are the sole responsibility of the experts. No Digi Observer journalist was involved in the writing and production of this article.
Alex Fedotoff Announces eCommerce Scaling Secrets Course For Online Businesses
Designed for marketing experts, entrepreneurs who already have some knowledge of e-commerce, and individuals seeking personalized coaching, the new eCommerce Scaling Secrets course will guide participants through product research, techniques for leveraging Facebook ads, marketing funnels, and other strategies for online businesses.
For more information, please visit https://muncheye.com/alex-fedotoff-ecommerce-scaling-secrets
With the launch of the course, founder and instructor Alex Fedotoff aims to highlight common pitfalls that e-commerce entrepreneurs often face. According to Fedotoff, as many as 90% of dropshipping businesses fail within their first year, a statistic that he attributes mainly to poor marketing funnels. As such, he has created the eCommerce Scaling Secrets program to help fellow online business owners improve their funnel strategies and increase their revenue.
The self-paced course consists of five sections, with a focus on Facebook advertisements as the main marketing method. Throughout the program, participants will learn about proper product research, store and funnel setup, and dropshipping order fulfillment. Fedotoff notes the importance of understanding the target audience, as this will allow entrepreneurs to better garner interest among their consumer base. Additional business strategies include ad placement and scaling, improving conversion rates, showcasing testimonials, streamlining the checkout process, and creating a sense of urgency through limited offers.
The course also includes live product research sessions, optimal pricing, and tips for increasing productivity and sourcing from reliable suppliers. Although the training places a heavy emphasis on Facebook, Fedotoff will hold sessions on using other social media platforms, such as TikTok, for advertisements. Participants will have access to additional programs within the main course, and they can also receive business coaching from Fedotoff and his team.
About eCommerce Scaling Secrets
The eCommerce Scaling Secrets program was founded by Alex Fedotoff following his long tenure as a successful online entrepreneur. Fedotoff is well-versed in consumer psychology and is a trusted authority in many e-commerce circles, where he provides consulting services to a number of major brands.
"The program is designed for entrepreneurs who already know a little about e-commerce and are ready to take their business to the next level," says Fedotoff. "With my program, entrepreneurs will learn how to create highly effective sales funnels and use Facebook ads and other social media platforms to scale their businesses beyond what they thought possible."
Interested parties can learn more or enroll in the program by visiting https://muncheye.com/alex-fedotoff-ecommerce-scaling-secrets
eCommerce Scaling Secrets
1688 Meridian Ave
COMTEX_440924281/2764/2023-09-25T17:29:05
About Author
Disclaimer: The views, suggestions, and opinions expressed here are the sole responsibility of the experts. No Digi Observer journalist was involved in the writing and production of this article.
New York Commercial Vehicle Magnetic Signs For Business Advertising Launched
The latest product launch brings additional advertising options to New York business owners looking to expand their local reach. Mobile promotions are particularly effective for this purpose, suggests Big Daddy's Signs – with the ability to pique the interest of passersby and motorists across a wide target area.
For more information see https://bigdaddyssigns.com/vehicle-magnets
Using Big Daddy's Signs' new custom vehicle magnets, small and medium-sized brands throughout New York State can make their business more recognized. Driving around with such materials attached to their vehicles, whether cars or trucks, essentially generates continuous advertising while on the move.
Extended customization only boosts the impact of mobile advertising via vehicle magnets, advises Big Daddy's Signs. New York companies can design magnet signs featuring their logos, mascots, brand colors, slogans, addresses, and contact details – significantly improving interest in their business in communities far and wide.
As iterated by a company spokesperson: "Having a well-designed magnet on your vehicle can create brand recognition and help your business stand out from the competition. Vehicle magnets can reach a wider audience as they can be seen by people who are out on the streets, in parking lots, or even at traffic lights."
To further assist business owners during the design process, Big Daddy's Signs provides access to an extensive collection of artwork templates. These can form the basis of vehicle magnet themes or serve as an inspirational starting point to help customers create signs in line with their own preferences.
Once ready, Big Daddy's Signs utilizes an advanced digital printing process that heightens image clarity and sharpness. The better the production, the bigger the effect on onlookers, notes the company. As such, the print shop renders graphics, pictures, and text in high resolution with the intent of making signs noticeable even from afar.
Its vehicle magnets are further manufactured with an emphasis on longevity – a crucial consideration for business owners planning to brave the elements as they promote their brand. Premium-grade materials make up the bulk of the company's signage products, including weatherproof corrugated plastic and laminate options.
"Vehicle magnets can be easily installed or removed without damaging your vehicle's paint or surface," says a Big Daddy's Signs representative. "They're also portable, so you can switch them between different vehicles to maximize exposure."
Big Daddy's Signs' new personalized vehicle magnets are now available across the company's vast New York State shipping area – from Buffalo to Binghamton and beyond.
Interested parties throughout the state can find additional information about the capabilities of vehicle magnets as described by Big Daddy's Signs at https://bigdaddyssigns.com/2023/06/14/vehicle-magnets-2/
Big Daddy's Signs
[email protected]
+1-800-535-2139
24 Lexington Drive
COMTEX_440924274/2764/2023-09-25T17:28:59
About Author
Disclaimer: The views, suggestions, and opinions expressed here are the sole responsibility of the experts. No Digi Observer journalist was involved in the writing and production of this article.