ALD Launched the Premium Products as the Total Solution for Disposable Vape Kicks into Gear
Products by ALD are Embellished with Different Flavors, Anti-Dust Design and Evade the Troubles of Certain Popular Brands.
Full Range Disposable Vape Solution
ALD Group Limited launches a full range of disposable products. Their products offer a minimum of 200 puffs to 1500 puffs which can fulfil the most of customers' demands on the market.   
Rich Features of ALD for Disposable Vaping Device
 The optional flavors and nicotine level are available for various demands. Having an anti-dust design and portable sizes fit them in user's hand properly. They can slide into any pocket perfectly as well. Vaping becomes pleasurable when the urge rises anytime and anywhere.
The products build with PCTG food grade material offer an adjustable air flow with a satisfying throat hit and substantial cloud production for a perfect MTL experience. The oil isolation design could avoid oil leakage during transportation and storage. The tanks of the vaping devices are always visible making it easier to observe the oil usage and grant super excitement of up to 1500 puffs, with a 1000 mAh battery, the vaping devices of ALD are not only reliable and effective but safe, secure and healthier as well.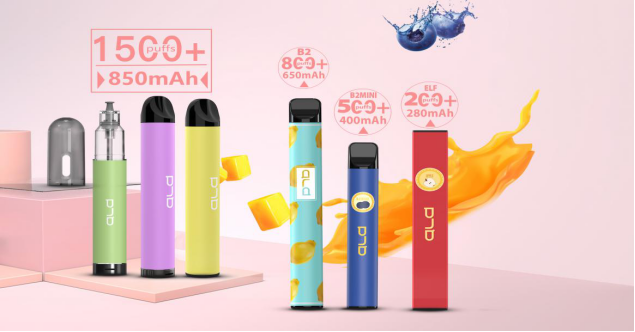 The Challenges for New Sellers
The demand for disposable vape products is on the rise and is an emerging global market, the problems faced by the new sellers may be countless and complex. Limited supply capacity and long-time delivery of certain popular brands pose a number of difficulties to the new sellers. New sellers are compelled to pass through strenuous working hours because they are required to set high performance goals and sign a monthly stocking agreement. Additionally, the high threshold and poor flexibility make it an impractical business to confirm one's footing in such kind of business. The beneficiaries of the best-selling brands are always direct importers. If new sellers enter the market now, they will face low profit and stern competition. Besides, new sellers experience a low degree of cooperation and a trust deficit exists leading to a weak attention and a lowest regard.
ALD-One Stop Solution Provider
In the given circumstances, ALD is a panacea for the new sellers. The company comprises of elite professionals whose conceptual clarity, product development, designing capability; product manufacturing and overwhelmingly excellent marketing create products that reach the epitome of perfection and guarantee reliability, security and user friendliness.
ALD brings forth products that seek tangible benefits for new sellers. New avenues and broad horizon are waiting at ALD where sellers are free to implement customized operations and inculcate their independent creativity into business models. This way they can build their own brands from zero to one. The stability in producing quality products in hygienic environment and dust free workshops surpasses the popular brands for they pass through a rigorous experience of 28 tests and 58 inspection procedures. The early lay out of the products, 60 ID package design and availability in more than 50 different flavors are a testimony to the reliability and efficiency of the ALD products. These features of ALD products make marketing support easier and supportive.
About the Company:  ALD Groups Limited, headquartered in China and established in 2009, is a leading electronic atomization technology company.  
For more information please visit:
http://www.aldgroup.com/en/disposable/84.html
For wholesale or distribution please contact:
About Author
Disclaimer: The views, suggestions, and opinions expressed here are the sole responsibility of the experts. No Digi Observer journalist was involved in the writing and production of this article.
Will Bulls or Bears Take Charge? $GFOX Set to 10X As $BONK Suffers Losses
–News Direct–
The crypto market is currently witnessing a tug-of-war between bulls and bears, with Bitcoin's price movements suggesting a possible bearish reversal. Despite a bullish sentiment that spread among all the best altcoins, there's a looming possibility of a downturn. Bitcoin's price already shows signs of slowing down after surpassing $38,000.
In the middle of this, two tokensGalaxy Fox ($GFOX) and Bonk ($BONK)have shown contrast paths that provide an insightful analysis of investor mood and market trends.
The Rise of Galaxy Fox ($GFOX)
In these uncertain times, when even some of the best altcoins start to struggle, Galaxy Fox shines brightly as a symbol of possibility and resilience. $GFOX is a unique hybrid DeFi architecture that smoothly blends play-to-earn platforms, staking, NFTs, and meme currencies.
The platform's focus on gaming is especially fascinating. It provides a cutting-edge Web 3.0 game that is both engaging and provides genuine income potential. With 50% of the prize money split among the top 20% on the leaderboard, players may win substantial prizes. This gamification gives the platform an interesting dimension that elevates it beyond the status of a simple financial instrument.
The ecosystem of $GFOX includes a booming NFT marketplace in addition to gaming. These NFTs are more than just collectibles; they improve users' game experiences by providing more competitiveness and agility.
The careful planning and long-term sustainability of $GFOX's approach is seen in its tokenomics. Each transaction has a portion designated for the treasury, staking pools, and liquidity pools to preserve market stability and liquidity. Also, the deflationary approach encourages long-term holding instead of short-term trading, which aligns with the goals of dedicated community members.
The early success of this new ICO crypto has been largely attributed to its presale approach. There are 10 phases to the presale, and the token price rises with each one. Potential investors feel pressured by this best ICO design, which also encourages early investment. More than $450,000 has already been raised after the first presale stage. The second stage has just opened, so make sure you join in and benefit from 9 more price boosts throughout the presale.
$BONK is on a Rocky Road
Bonk is in sharp contrast to $GFOX. Even though $BONK has increased by almost 4,500% so far this year, recent difficulties have clouded the company's trajectory.
$BONKs placement on Binance's perpetual futures market may represent a token value shift. After the news, $BONK already experienced a 14% price drop, a development that has raised investor concerns.
Historically, when Binance lists smaller cryptocurrencies, their values often peak and then decline. This was the case with $PEPE, whose value plummeted post-listing. Perpetual futures enable traders to short-sell, betting against the token's price, which can lead to increased volatility. This is particularly relevant for cryptocurrencies like $BONK, which may not withstand such speculative pressures.
Recent signs suggest that $BONK's price is now losing momentum, potentially ending its recent upward trend.
Conclusion
The market reaction to $BONK's listing on Binance's perpetual futures emphasizes the importance of real value and strong market support for volatile cryptocurrencies. This scenario highlights the increasing interest from investors in tokens like $GFOX, which distinguishes itself with its play-to-earn components, integrated DeFi architecture, and NFT integration. With these characteristics, $GFOX is well-positioned to weather market fluctuations and become an attractive competitor among the best altcoins.
Learn more about $GFOX here:
Visit Galaxy Fox Presale | Join the Community
Memecoin market is saturated with silly dog coin knock-offs and dodgy Pepe joke coins. What was once a thriving and fun-filled space has lately devolved into a wasteland of coins that lack real utility or serious development or even something just to make you laugh, like OG memcoins of the past Doge and Shiba Inu once inspired.
Contact Details
Team
View source version on newsdirect.com: https://newsdirect.com/news/will-bulls-or-bears-take-charge-gfox-set-to-10x-as-bonk-suffers-losses-727330633
RoundHouse Media

COMTEX_444391880/2655/2023-12-03T14:50:24
About Author
Disclaimer: The views, suggestions, and opinions expressed here are the sole responsibility of the experts. No Digi Observer journalist was involved in the writing and production of this article.
What is the bet365 70% Parlay Boost Promo?
–News Direct–
bet365 has another fantastic offer for keen sports fans to claim when placing a parlay bet on the site. In this article, we will be discussing all things bet365 and why it is one of the best sportsbooks in the United States, as well as dive deeper into the sites 70% Parlay Boost Promo on offer from the site in more detail.
What is bet365?
As one of the biggest and best sportsbooks in the industry, bet365 certainly stands out in any market. It focuses on quality and offers some of the best sports betting odds and markets that can be found among competitors. Players in most US states can play at bet365 legally thanks to the lifting of online gambling laws; however, there are still a few of the states excluded. It is fully accessible on a PC and is fully optimized for cell phones, too. bet365 has its own dedicated mobile app that can be downloaded across iOS and Android devices for free!
bet365 70% Parlay Boost Promo
Sports fans in the US can claim a fantastic 70% Parlay Boost promo from the site when creating a new account. This offer is currently on offer and available to claim on sports such as the NFL, NCAAF, NBA, MLB, NHL, and many more! Place a pre-game parlay of two or more selections from the qualifying leagues and if your bet is successful, bet365 will add a boost of 5% up to 70% to your winnings. The boost amount is dependent on the number of selections placed. This boost promotion is only available to new and eligible players at bet365.
You May Also Be Interested in
Learn more about the incredible bet365 sportsbook at News Direct.
Summary
This is a fantastic opportunity to get started playing at bet365 sportsbook. With an offer that is hard to beat anywhere else and being on a site as established and reputable as bet365, players will not be disappointed. Head to the website now and sign up to claim your 70% Parlay Boost Promotion.
Contact Details
Acroud Media
View source version on newsdirect.com: https://newsdirect.com/news/what-is-the-bet365-70-parlay-boost-promo-858958059
Acroud Media

COMTEX_444391867/2655/2023-12-03T14:50:17
About Author
Disclaimer: The views, suggestions, and opinions expressed here are the sole responsibility of the experts. No Digi Observer journalist was involved in the writing and production of this article.
New Altcoin Is Setting Record Pace: Can It Challenge Cardano and Ethereum In 2024?
–News Direct–
As we Meme Moguls 2024, the crypto arena is witnessing unprecedented developments, with this new entrant showcasing robust growth metrics and potential. But can it truly rival the dominance of well-entrenched giants like Cardano and Ethereum?
Cardano Developments and 2024 Predictions
Cardano, currently priced at $0.3868, has been on an impressive upward trajectory, gaining 6.83% over the last week, and 32.87% in the past month. These figures hint at the growing investor confidence in Cardanos fundamentals and its roadmap for 2024. Still, Cardano has seen only 25.88% growth over the past year, modest compared to many other major players.
The year ahead is pivotal for Cardano, with significant technical upgrades like Input Endorsers and Hydra, and the integration of Mythril, which are set to enhance its transaction capacity, wallet synchronization, and overall network efficiency.
The Cardano Improvement Proposal (CIP) 1694 is expected to revolutionize its governance model. With its liquid democracy system, the network is set to become fully decentralized.
Price predictions for Cardano (ADA) in 2024 suggest a potential high of $2.02, with an average price of $1.695, and a potential low of $1.37. This forecast is influenced by factors such as the 4th Bitcoin halving and the rise of centralized finance institutions entering DeFi. Ethereum (ETH), on the other hand, is predicted to reach a potential high of $3,825.09, with an average price of $3,182.36, and a minimum price of $3,067.39 in 2024.
Ethereum Set for Strong 2024
Ethereum, with its current price standing at $2,063.41, has demonstrated a robust performance, marking a 15.75% increase over the past month and an impressive 76.16% growth over the last year. This sustained upward trend underscores Ethereum's resilience and innovation in the face of emerging competitors.
As Ethereum marches into 2024, it continues to build on its strengths with a roadmap focused on cheaper transactions, enhanced security, and a better user experience. Key developments like the implementation of staking withdrawals and scalability improvements through rollups are set to bolster Ethereums position further.
The integration of features such as proposer-builder separation and account abstraction underlines Ethereum's commitment to future-proofing the network, ensuring it remains a formidable contender against any new altcoin entering the fray.
Ethereum (ETH) is predicted to reach a potential high of $3,825.09, with an average price of $3,182.36, and a minimum price of $3,067.39 in 2024.
Meme Moguls Set to Beat Both Ethereum and Cardano
Meme Moguls, a relatively new entrant in the cryptocurrency space, is poised to outperform giants like Cardano and Ethereum in 2024. With its innovative approach, combining meme culture with digital asset trading, Meme Moguls offers a unique value proposition. Its potential for 100x growth stems from several key factors:
Community-Driven Platform: Meme Moguls is built around a strong community focus, leveraging the viral nature of memes to engage users and drive platform growth.
Staking and Rewards: Offering lucrative staking options and rewards for platform engagement, Meme Moguls incentivizes user participation and investment, fueling its growth potential.
Exclusive Features: With unique offerings like the Moguls Casino and the Moguls Exchange Trading Platform, it provides an engaging experience beyond traditional crypto trading platforms.
Robust Tokenomics: Meme Moguls has a well-structured token distribution, with a significant portion allocated for ecosystem development and exchange listings, which supports long-term growth and stability.
Market Positioning: As a meme-based utility token, it taps into the growing popularity of meme coins, a market segment that has shown explosive growth potential.
These factors, combined with a bullish crypto market outlook for 2024, position Meme Moguls favorably for exceptional growth, potentially outperforming established players like Cardano and Ethereum. The token is currently in its presale stage and can be acquired at $0.0021.
Contact Details
Meme Moguls
View source version on newsdirect.com: https://newsdirect.com/news/new-altcoin-is-setting-record-pace-can-it-challenge-cardano-and-ethereum-in-2024-226668167
Total Media
COMTEX_444391884/2655/2023-12-03T14:50:26
About Author
Disclaimer: The views, suggestions, and opinions expressed here are the sole responsibility of the experts. No Digi Observer journalist was involved in the writing and production of this article.