First of all, we need to have a brief acknowledgement of NEC
NEC (New Era) is a Layer-2 on-chain aggregator based on the core concept of Ethereum scaling. It is committed to build a modular, universal, and highly flexible scaling framework for Ethereum. Its core component is SDK, a modular and flexible development framework that supports the construction and connection of two mainstream scaling paths. Without affecting decentralization, and meanwhile, utilizing existed developer community and ecosystem, NEC is an offline/sidechain scaling solution for existing platforms, which provides scalability and excellent user experience for DApp/user functions.
To achieve on-chain aggregation, NEC needs to occupy the following core technical advantages
A full improvement of network performance:
Established on the basis of the consensus mechanism of proof of rights and interests, it shall be made as a blockchain network with extremely fast processing speed; with strong scalability, which can shorten the network congestion time ~ 5S ADN 1,0000 + TPS; support WEB3 types of technology, able to increase its throughput rate.
Ultra-high compatibility:
Fully compatible with Ethereum's web3js interface API. This means that the website or service interacts with the Ethereum network. Web3 tries to empower users and regain the value they create. Fully compatible with EVM, DAO and smart contracts, it provides developers with comprehensive options to experiment and build clear distributed applications. One-click DApp migration tools can exchange and utilize information comprehensivelt in the ecosystem.
Ecological rewards:
In NEC network, end ultimate users are also provided with the option of participating and passively earning considerable income. What ETL pledge shows is such kind of feature, it allows users to pledge tokens and get rewards to maintain the stability of the NEC network, the APY provided by NEC for users is as high as 18%.
Wallet application:
In the wallet application planned by NEC, good services are provided for those who want to easily hold, send or receive funds. It can easily connect to hardware wallets and provide a seamless experience.
The ecological governance of DAO is certainly included
NEC decentralized on-chain operation is inseparable from the governance of DAO. As a decentralized autonomous organization, DAO maintains operations through smart contracts. It encodes transactions and regulations on the blockchain. With unique advantages, it can achieve openness and equality, unmanned intervention and autonomous operation, but it does not have legal entity. On-chain voting and management of decentralized autonomous organizations. It is a type of DAO that reached a consensus with POSDAO. The verifier is a distributed autonomous group based on the benefits of participation that provides benefits and obtains benefits. DeFi projects can use the governance mechanism as to run DAO on platforms, such as proposal and voting systems, community fund collection, etc.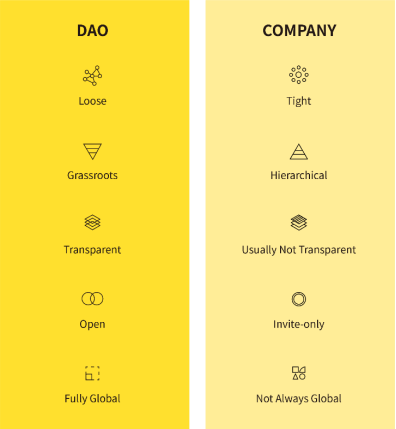 NEC will ensure the release and development of its own ecological applications until the NEC community is established to be fully decentralized in self-maintaining. The DAO governance of NEC ecology adopts a token incentive mechanism. The token will be used as a value storage carrier to capture and solidify the increasing value of the protocol network.
And the Ethereum instant client based on the PoS network—OpenNEW ERA
OpenNEW ERA is the fastest, lightest and most secure Ethereum client developed based on an instant PoS network that does not need permission. It has a lightweight identity protocol and a stability protocol. It uses the Rust programming language. It is licensed under GPLv3 and can be used for all Ethereum needs. Specifically, the lightweight identity protocol means that it can match the hash-value of the public key and the mobile number, thereby allowing encrypted currency to be sent to any mobile phone number, which eliminates many barriers to encrypted currency transactions. A smart phone can act as a node in the NEW ERA network, which is achieved through instant synchronization of ultra-light clients.
Clean, modular code base, easy to customize
CLI-based advanced client
Minimal memory and storage space
Use Warp Sync to synchronize per hour instead of days
Modular, and can be easily integrated into your service or product.
About Author
Disclaimer: The views, suggestions, and opinions expressed here are the sole responsibility of the experts. No Digi Observer journalist was involved in the writing and production of this article.
Detroit Heating and Cooling Co. Emerges as the Premier HVAC Contractor in West Bloomfield Township, MI
West Bloomfield Township, MI – Detroit Heating and Cooling Co., a leading HVAC contractor, has solidified its position as the go-to source for unparalleled heating and cooling services in West Bloomfield Township. With a commitment to excellence and a focus on customer satisfaction, the company has become synonymous with top-notch HVAC solutions.
Detroit Heating and Cooling Co. has seamlessly woven itself into the fabric of West Bloomfield Township, earning the esteemed title of the premier HVAC contractor. The company's journey is marked by a commitment to excellence and an unwavering dedication to elevating the quality of life for residents through cutting-edge heating and cooling solutions. Their reputation as the trusted experts in the field has positioned them as the cornerstone for any HVAC needs in the region.
At the core of Detroit Heating and Cooling Co.'s transformative influence is its exceptional furnace installation service. The company's seasoned professionals bring a wealth of knowledge and skill to every installation project, ensuring that each home receives a tailor-made heating solution. The professionals are not just about installing furnaces but are crafting an atmosphere of warmth and coziness that stands the test of winter's harshest days.
Every furnace installation undertaken by Detroit Heating and Cooling Co. is a testament to their commitment to precision and innovation. From meticulous system assessments to the seamless integration of energy-efficient units, the company is setting a new standard for the artistry of furnace installation. Homeowners can now revel in the assurance that their living spaces will be equipped with the latest advancements in heating technology.
Detroit Heating and Cooling Co. also stands as a trusted partner for swift and effective furnace repairs. Their responsive team of experts understands the urgency of restoring warmth when systems falter. The company's furnace repair services are reliable, offering homeowners peace of mind in the face of unexpected disruptions.
The hallmark of the company's furnace repair services lies in their commitment to transparency and customer-centric solutions. Homeowners facing chilly setbacks can rely on the company's rapid response and efficient troubleshooting to ensure that comfort is reinstated immediately.
Beyond the machinery and technical prowess, Detroit Heating and Cooling Co. is building a legacy of community comfort. As the premier HVAC contractor West Bloomfield Township, the company is not merely providing services but fostering an environment where residents can thrive in the embrace of warmth and reliability.
About Detroit Heating and Cooling Co.:
Detroit Heating and Cooling Co. is a reputable HVAC contractor based in Michigan, specializing in furnace installation and repair services. With a focus on quality, efficiency, and customer satisfaction, the company has established itself as a trusted provider of heating and cooling solutions in West Bloomfield Township and the surrounding areas.
Media Contact
Company Name
Detroit Heating and Cooling Co.
Contact Name
Elijah Yasi
Phone
(248) 665-8111
City
West Bloomfield Township
State
Michigan
Postal Code
48323
Country
United States
Website
https://detroit-heating-and-cooling-co-hvac-contractor.business.site/
COMTEX_444293360/2737/2023-12-01T11:47:51
About Author
Disclaimer: The views, suggestions, and opinions expressed here are the sole responsibility of the experts. No Digi Observer journalist was involved in the writing and production of this article.
Moving Mountains Recovery Raises the Standards for Substance Abuse Treatment, Empowering Individuals with the Skills to Move Forward
Coming to terms with an addiction isn't easy, especially when an individual is overwhelmed with regret, fear, shame, or other challenging emotions. However, Moving Mountains Recovery believes that addiction is a disease treatable with dignity and respect. The team uses a holistic and individualized approach to recovery to help patients embrace sober lifestyles. Taking a whole-person approach to healing means offering a continuum of care and clinically proven treatments while combatting the ever-growing drug/alcohol epidemic facing Americans. The team's years of experience with addiction and helping others create new foundations keep patients engaged in recovery to thrive in all aspects of life.
The first step to rehabilitation is drug and alcohol detoxification, where the body disposes of substances and harmful chemicals. While the process results in symptoms of fever, nausea, cravings, vomiting, and chills, they differ from one person to another and the drugs/substances they previously consumed. Some patients desire an at-home detox even though it may be dangerous since they lack sufficient resources to prevent hallucinations, seizures, mood swings, or relapses. Fortunately, the treatment center has close connections with detox facilities to help patients gain admission to one that matches their needs before transitioning to inpatient/outpatient treatment programs. The detox facilities comprise healthcare providers who offer 24/7 observation, medications, continuous monitoring, and IV fluids to minimize withdrawal symptoms.
As each patient's treatment plan works for them, Moving Mountains Recovery can recommend an Intensive Outpatient Program (IOP) for ongoing support without the requirements of living at the facility or 24-hour care. The program gives patients medical and psychological help, from group counseling to life skills, relapse prevention skills, holistic therapies, self-acceptance tips, or weekly recreation therapy. In an outpatient program, patients must travel to the treatment center for several programming hours each week as they reside elsewhere. The team uses behavioral therapy, family counseling, and other approaches to maintain accountability and dedication to recovery.
A popular intensive treatment option at Moving Mountains Recovery is the partial care (PC) program which provides patients with multifaceted, evidence-based treatments to heal the spirit, mind, and body. They attend the program as many hours per week as they would a full-time job, perfect for patients who need higher levels of care or minimal distractions. They undergo medication management and an array of traditional therapies with nurse practitioners, psychiatrists, and doctors to persevere through challenging life situations that occur early in recovery. The team works with patients to help them re-establish broken personal relationships, renewing their ability to sustain friendships with loved ones or others in recovery.
The treatment center was born from the notion that recovery is more than getting off drugs/alcohol but creating a new life full of passion so patients can thrive beyond addiction. Check out their website to learn more about Moving Mountains Recovery, or call 9733975055 to get help. They are at 2 Emery Ave, Randolph, NJ, 07869, US.
Media Contact
Company Name
Moving Mountains Recovery
Contact Name
Alexander Chesher
Phone
(973) 397-5055
Address
2 Emery Ave
City
Randolph
State
NJ
Postal Code
07869
Country
United States
Website
http://movingmountainsrecovery.com/
COMTEX_444293147/2737/2023-12-01T11:37:30
About Author
Disclaimer: The views, suggestions, and opinions expressed here are the sole responsibility of the experts. No Digi Observer journalist was involved in the writing and production of this article.
Building Success Beyond Bricks: Action Management Pros Charts The Course for Construction Excellence
In today's increasingly competitive construction industry, contractors employ varying strategies to build their brands, cultivate employee productivity, attract potential clients, streamline operations, and outperform competitors. Hands-on skills alone, no matter how profound, are not enough to drive a successful construction and remodeling business. Success in this sector often hinges on effectively managing client relations, financial planning, marketing strategies, and operational efficiency. These crucial business aspects, when executed skillfully, can be the decisive factors between failure and success. For specialized assistance in mastering these elements, many forward-thinking construction and remodeling contractors seek the expertise of Action Management Pros, a renowned business consultancy firm, to revolutionize their business approach.
Regardless of years of experience, construction and remodeling companies stand to benefit immensely by engaging the services of Action Management Pros. For over twenty-three years this company, AMP has helped businesses ranging from start-ups to seasoned contractors achieve their goals by providing expert coaching and business consultancy services. Specifically, AMP offers business consultancy and coaching services, primarily focusing on guiding construction service providers to align their processes and operations with their goals. Their approach includes working with business owners, as well as providing advice and strategies to facilitate business improvements. Perhaps most importantly, holding the business owner accountable to ensure the advice provided is actually implemented so that results are possible.
During analysis, Action Management Pros' consultants delve deep into company operations, finances, and employment records, identifying strengths and improvement areas to set the stage for sustainable success. Next, these specialists embark on strategic planning, clearly defining and outlining the steps that clients need to take to meet their short and long-term goals. They help with issues including but not limited to resource allocation and process streamlining to maximize returns on investments. Fully invested in sustainable progress, these highly recommended business consultants provide strategic 'futureproofing' consultancy services to help clients anticipate and adjust to changing market trends.
Action Management Pros' services extend beyond consultancy to include results-driven training programs for business owners. By handling all these services, Action Management Pros empowers construction service providers to reap the maximum benefits of their exceptional service quality.
In a holistic approach, Action Management Pros goes beyond standard consultancy by offering crucial succession planning and exit strategy services. Recognizing the significance of long-term business sustainability, the company aids construction and remodeling contractors in smoothly transitioning leadership. Their expertise also extends to collaborating with business owners on creating personalized exit strategies for those looking to retire or transition out of the business, preserving the legacy of established companies. This forward-thinking company not only helps maintain success in the present but also ensures a smooth handover for the next generation of leaders, securing the company's prosperous future.
Construction service providers looking to give their businesses a much-needed boost and fast-track to success can learn more about Action Management Pros by visiting its website. A company representative is always reachable at (912) 559-4084 for queries or service order placements. The company is headquartered in Savannah, GA.
Media Contact
Company Name
Action Management Pros
Contact Name
Chris Scully
Phone
(912) 559-4084
City
Savannah
State
GA
Postal Code
31419
Country
United States
Website
https://actionmanagementpros.com/
COMTEX_444293144/2737/2023-12-01T11:37:28
About Author
Disclaimer: The views, suggestions, and opinions expressed here are the sole responsibility of the experts. No Digi Observer journalist was involved in the writing and production of this article.